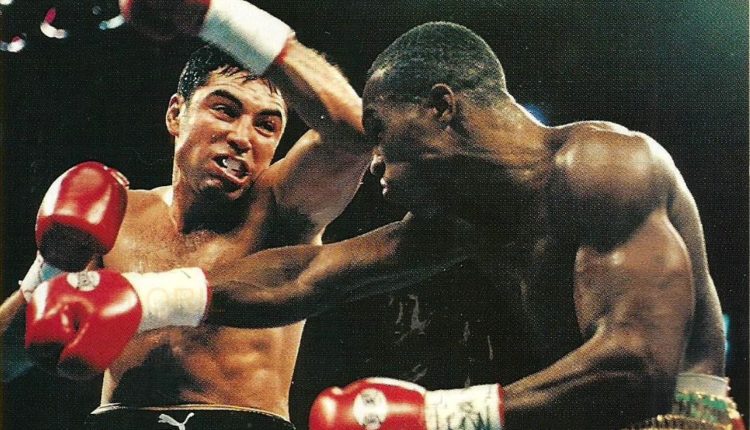 I was cheated against De La Hoya in 1999 – Ike Quartey
Former World Boxing Association (WBA) welterweight titleholder, Ike 'Bazooka' Quartey, says he felt cheated when he took on the legendary Oscar de la Hoya in 1999.
He said the controversial decision of the judges in the pugilist contest of more than two decades ago killed his interest in the game.
The Ghanaian boxer lost to the Puerto Rican after a 12 round-thriller that left both men with swollen faces.
For 11 rounds, De La Hoya tried to figure out what to do against Ike Quartey as the hard-hitting Ghanaian kept his defence tighter and his punches flurry.
But in the 12th round and teetering on the brink of defeat while his World Boxing Council welterweight title heads to West Africa, , De La Hoya did what he should have done all along. He went after Quartey.
In that last round, De La Hoya threw 69 punches in the three minutes, knocking Quartey down with one (a sharp left hook to the jaw 12 seconds into the round) and earning his stripes as a champion in his first serious bout since he won the title against Pernell Whitaker in 1997. It was enough to give De La Hoya (30-0) a split decision over Quartey (34-1-1).
Judge Larry O'Connell of Hartley, England, scored it 115-114 for Quartey, but the other two judges scored it for De La Hoya — Ken Morita of Sapporo, Japan, by 116-112 and John Keane of Northants, England, by 116-113.
Quartey was surprised at the final verdict in favour of Puerto Rican-American, considering how he had dominated the fight.
In an interview with Graphic Sports, Quartey said that the result bothered him so much because he was treated unfairly.
"I won that fight and everyone knows it. You can't judge a bout by just a round because the verdict is supposed to reflect 12 rounds.

"He didn't win the fight, but he was only given the win on boxing politics at the time," an emotional Quartey said.
The defeat to Oscar De La Hoya proved a negative turning point in Quartey's career as he found it difficult to stay at the top in the sport.
Quartey was defeated in his second chance to win the title courtesy of a unanimous decision in April 2000.
Ike Quartey finally hanged his gloves in 2006 with 42 fights, 37 wins, 31 knockouts, 4 losses and a draw.