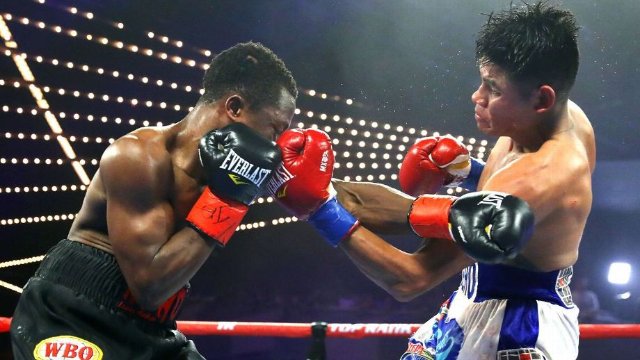 Isaac Dogboe loses WBO world super bantamweight title to Emanuel Navarrete
Ghana's Isaac Dogboe lost his WBO world super bantamweight title on Saturday night, outpointed by Mexico's Emanuel Navarrete after a brutal encounter in New York.
Navarrete. who was fighting outside his native Mexico for the first time, took it to Dogboe. He landed a lot of hard punches, swelled his face and scored an upset unanimous decision to take the title at the Hulu Theater at Madison Square Garden.
The fight was scored 116-112, 116-112, 115-113, all in Navarrete's favour.
"Hearing those words ('and the new world champion') was the culmination of a dream, a culmination of all the hard work and all the sacrifices that I have made," Navarrete said through an interpreter. "Thanks to Isaac Dogboe. I knew I'd have to be at my best.
"I hurt my right hand early in the fight, but I had the desire to be a champion and I did everything necessary to get the title, and I am very happy and proud to achieve this goal of being the world champion."
Dogboe, a 2012 Olympian from Ghana, had burst on the scene early this year, winning an interim title by knocking out Cesar Juarez in the fifth round in January, then claiming the full title with a rousing 11th-round knockout of Jessie Magdaleno in April followed by a first-round demolition of Hidenori Otake in August. But Navarrete, a much bigger man, could not be tamed in Dogboe's second title defense and he gave Navarrete credit.
"It was a great fight, and Emanuel Navarrete fought like a true Mexican warrior," Dogboe said. "Champions are supposed to keep going under any circumstance, but I just couldn't get the victory. The best man won tonight."
The fight got off to a spirited start with several exciting exchanges in the early rounds. Navarrete suffered a cut on the left side of his hairline in the second round but he also seemed to rattle Dogboe with a right hand.
Dogboe, the shorter man, worked the body very well but Navarrete found a home for his left hand, which he landed flush several times.
Navarrete charged after Dogboe during the fifth round, landed some right hands and had him in retreat. By the sixth round, Dogboe's right eye was swelling. He also had swelling on the left side of his face. Dogboe applied intense pressure in the eighth round but Navarrete withstood it and fired back.
Dogboe landed a right hand behind the head that dropped Navarrete in the ninth round but referee Benjy Esteves did not call it because it was an illegal punch.
Navarrete (26-1, 22 KOs), 23, had Dogboe (20-1, 14 KOs), 24, in some trouble in the 11th round as Dogboe's left eye was nearly closed and he might not have been able to see the punches coming. His legs also looked unsteady as Navarrete chased him around the ring.
In the final round, Navarrete, who won his 21st fight in a row, continued to come forward and Dogboe, whose face was a mess, grabbed on to Navarrete whenever he got close.
According to CompuBox punch statistics, Navarrete landed 221 of 804 punches (28 percent) and Dogboe connected with 176 of 686 (26 percent).
source: Wires