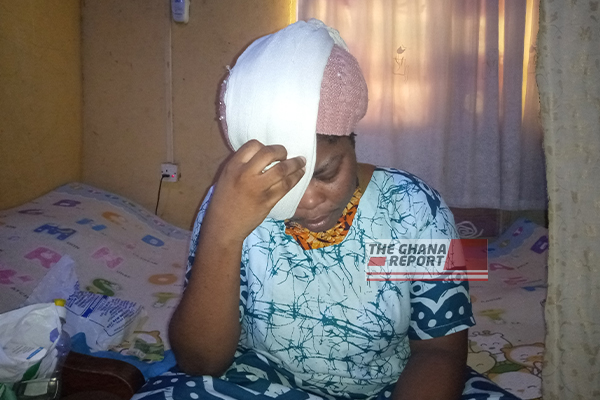 The mother of two whose children fear to look at her
'It feels like a mining site inside my head' – Mother with eye tumour begs for help
Faustina's head is partly bandaged in a white scarf. It was neatly done.
And that's how her family members can walk about her at home without puking, or twitching their faces at the horror or running off.
But at least once a day, sometimes several times a day, it comes off.
It changes everything.
A reddish mishmash of raw flesh jumps out of her eye socket and in the middle of this eyesore is her eyeball, sitting lamely out of joint.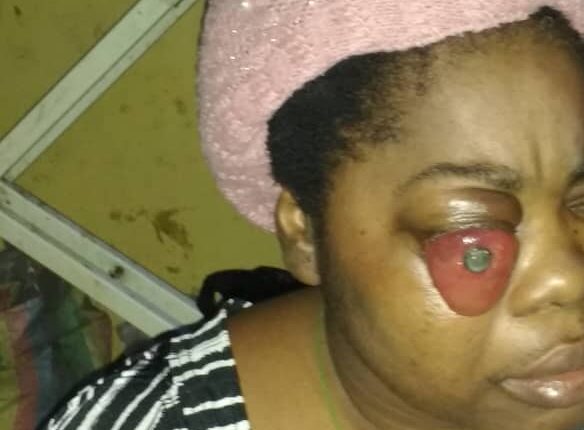 It is a hideous sight and theghanareport.com's cameras found it too unpleasant for readers.
Faustina Kwakye relocated from Agona Swedru to join her husband in Kasoa Kakraba where they are raising their five and two-year-old sons.
Everything seemed normal for the family until one morning when Faustina was feeding her son and his head accidentally hit her right eye.
"It started about a year ago, I was feeding my last child and he was struggling with me so accidentally his head hit my eyes," she said.
Faustina's right eye has swollen out looking like an egg with a goldish circle on it.
The 38-year-old tabletop seller said, she applied ointment on her eyes and went about her duties.
For over a week, the pain wouldn't go so she visited the hospital.
"I went to the Our Lady of Grace Hospital in Assikuma. There, I was told to take a scan and it costed GHC700, I didn't have the money so I came home and continued with the ointment treatment"
"So, after four months, my church helped me raise the money and I went to take the scan and that was when they told me there was a cancerous tumor in my head causing my eye to swell"
"That was when I began the treatment at Korle Bu, I could go to Korle Bu like four times a week, I could go for Neuro clinic and then eye clinic. Within a week I could buy medicine like GHC300 so I stopped" she narrated.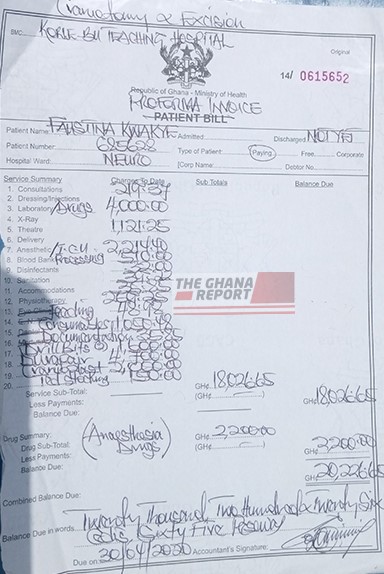 Her husband, a taxi driver, has had to babysit for her and their two sons.
"It was difficult for me and because of my situation, my husband is the only one taking care of everything… we virtually live on the benevolence of people"
After months of enduring the pain and trying other alternative medication, Faustina got a bill for Korle Bu.
"So finally, Korle Bu gave me GHC23,000 as the bill for my surgery and since then I have not been myself…. I told the doctor that even if he gives me 10years I cannot raise the amount of money" she said amidst tears.
Faustina walks around with a scarf tied across her head covering her right eyes since the size of her eyeball is too big to hide under a spectacle.
"Initially I could wear spectacles and go out because I thought it was just a painful eyeball but it got swollen so big that it became difficult to go out"
The mother of two said she battled suicidal thoughts when rumors started roping in that she has been cursed.
"…But for my husband I would have been dead especially when the rumors started, some said I was cursed a lot of things"
"Even my children were afraid of me so I sent them to my sister's place," she said
According to Faustina, she has had to sleep on her left side for the past six months because of the pain emanating from her swollen eyes.
"It's been over six months, I sleep on my left side, I can't sleep on my right side"
Drenched in tears, the 38-year-old mother of two pleaded for support.
"The pain I am going through is indescribable. It is like there is a mining site inside my head… I am pleading to Ghanaian to help me because I am losing my other eye" she pleaded.
Anyone who wishes to support Faustina should reach out to The Ghana Report Foundation on 030 296 5516, 054 8426 252 or info@theghanareport.com