'It's fake news' – NDP dismisses story of Nana Konadu withdrawal from 2020 polls
The 2020 NDP flagbearer and former First Lady, Nana Konadu Agyeman Rawlings
The National Democratic Party (NDP) has described as fake news, media reports suggesting its founder and presidential candidate, Nana Konadu Rawlings, has withdrawn from the 2020 race.
"This is fake news in capital letters," the party's secretary-general, Alhaji Mohammed Frimpong , said at a press conference Monday.
Political watchers had been predicting that the 2020 NDP presidential candidate, Nana Konadu Agyemang Rawlings, was likely to withdraw from the race following the death of her husband, former president, Jerry Rawlings, the man described as her backbone.
The grieving Mrs. Rawlings, they said, would not be able to juggle the rigmarole of political campaigns with elections barely 14 days away.
Pollster Ben Ephson; political scientist Alidu Seidu of the University of Ghana and former Chief of Defence Staff Nunoo Mensah were leading commentators on the likelihood and need for the 72-year old widow to withdraw from the race.
Some believed a widely publicised party press conference on Monday would confirm the predictions.
The press conference did come on, but the prediction did not materialise.
Alhaji Mohammed Frimpong blamed the NDC for feeding the story to the media.
"That's the game of our detractors," he said of the NDC and called the story "the latest of the lies."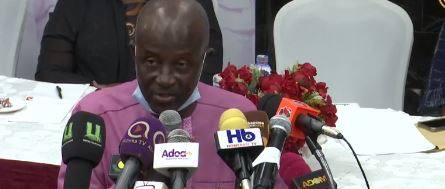 "Our leader is grieving and should be allowed to grieve in peace," he said.
No date has been set for the state burial of former President, Jerry John Rawlings who died November 12, 2020, but media reports said it was understood that Mrs. Rawlings wants to focus on preparations for her husband's burial.

Photo: Nana Konadu married Rawlings in 1977 after they met at Achimota School
Nana Konadu helped her husband found the National Democratic Congress in 1992 when Ghana returned to democratic rule.
She formed the 31st December Women's' Movement to mobilise support for the NDC and also promote women's issues.
Nana Konadu Agyeman Rawlings would break away to form her own party in 2012, the National Democratic Party, after the former first family's relationship with the NDC deteriorated.
At her first attempt at the presidency in 2012, she was disqualified by the Electoral Commission. At her second attempt in 2016, she polled 0.16% of the presidential votes cast.
But at her third attempt, she is set to withdraw out of respect for her late husband.
Nana Konadu turned 72 years on November 17, five days after her husband's shocking passing.
Her marriage and political life have mirrored that of the Clintons in the US. Nana Konadu is a former first lady who, like Hilary Clinton, tried to become Ghana's first female president.

Photo: President Bill Clinton and first lady Hillary Clinton visited Ghana in 1998
 when President Rawlings was in power