'It's improper' – Akufo-Addo slams foreign missions for interference in local politics
It is not appropriate for foreign missions in Ghana to interfere in domestic matters of the country, President Nana Akufo-Addo has said.
Mr Akufo-Addo, who cautioned foreign diplomats against such conduct stressed:" This has been going on for far too long. I think it isn't proper".
He made this known at Wednesday's press encounter in response to a question by veteran journalist Kwesi Pratt Jr., concerning foreign mission overstepping their boundaries on local issues.
Mr Akufo-Addo continued: "I keep wondering if the foreign offices of those countries will find it fit if diplomats of other countries interfere in their country's politics".
"There is one law for some people and another law for others," he emphasised and invited a public discussion on the interference.
His comments come in the wake of public utterances by ambassadors of some foreign countries to Ghana including the US, UK, Holland and Denmark who have raised concerns about the high levels of corruption in Ghana.
More than half of Ghanaians have said the level of corruption in the country has increased and the government is doing a poor job at fighting it in a new Afrobarometer survey released recently.
Ghana ranks 78th out of 180 countries on Transparency International's 2018 Corruption Perceptions Index, three places below its 2017 position despite efforts such as the introduction of a Special Prosecutor to fight corruption.
In the past, the President's predecessor, John Dramani Mahama, was at the receiving end,  taunts from Jon Benjamin, the former United Kingdom High Commissioner, albeit sometimes, comical.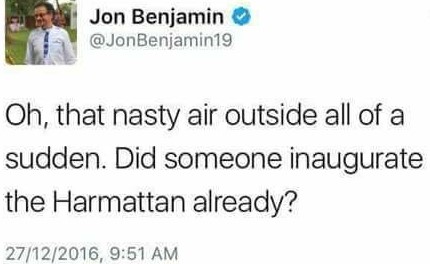 But not all Ghanaians saw the humour in the diplomat's tweets.