Japan's PM Kishida ditches son as aide after party scandal
Prime Minister Fumio Kishida said on Monday that his son, Shotaro Kishida, would resign as his aide.
This follows the publication of photos of the 32-year-old and other relatives and friends holding a party at the prime minister's official residence, including some images of people posing at the podium where Kishida gives his press conferences.
Japanese investigative publication Bunshun, which has a reputation for being critical of the ruling party, published the images last week.
The gathering is thought to have taken place late last year.
The opposition also questions the original appointment
Kishida told reporters his son would step down as his secretary this week. The move was the result of Shotaro Kishida's "inappropriate" behaviour at the official residence, he added.
"His behaviour in a public space was inappropriate as someone who is in an official position as a political aide," Kishida said. "I've decided to replace him for accountability."
"Of course, the responsibility lies with me. I take it seriously," Japanese news agency Kyodo quoted the prime minister as saying. "I want to fulfil my duties by addressing challenges that cannot be postponed and moving forward with determination."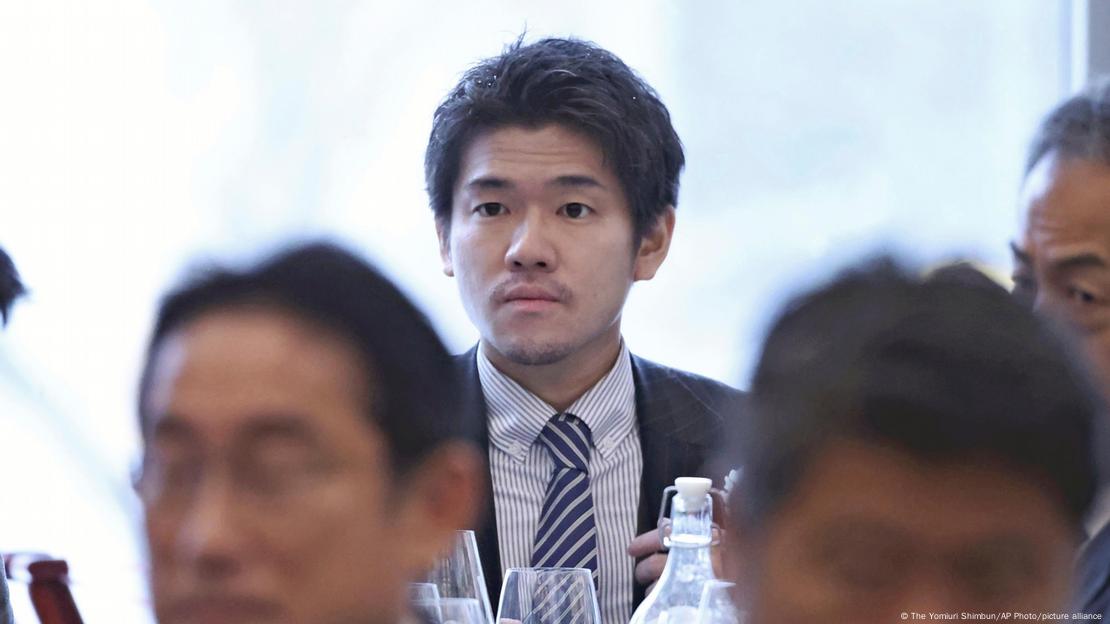 Opposition politicians had been highly critical of the images and of the younger Kishida's behavior, as well as his father's decision to employ him in the first place.
"The appointment itself had a strong element of intermingling public and private interests. Resignation is only natural," Kenta Izumi, the leader of the largest opposition Constitutional Democratic Party of Japan, told reporters on Monday.
The head of another opposition group, Nobuyuki Baba of the Japan Innovation Party, told the Kyodo agency that Kishida's son "should have acted with awareness of his position."
Fresh headache for Kishida right after G7 boost
The revelations came soon after Kishida had received a boost in popularity as Japan hosted the G7 summit in Hiroshima earlier in May. Kishida had been facing plummeting approval ratings, but these had stabilized to around 47% amid the summit.
Shotaro's appointment as his father Fumio's executive secretary in October had already caused the prime minister grief. Shotaro was reportedly using official cars to go sightseeing and to buy gifts in Europe while his father was touring G7 member countries.
The prime minister also lost four Cabinet ministers in the space of three months late last year, either as a result of allegations of financial irregularities or of links to the controversial Unification Church.