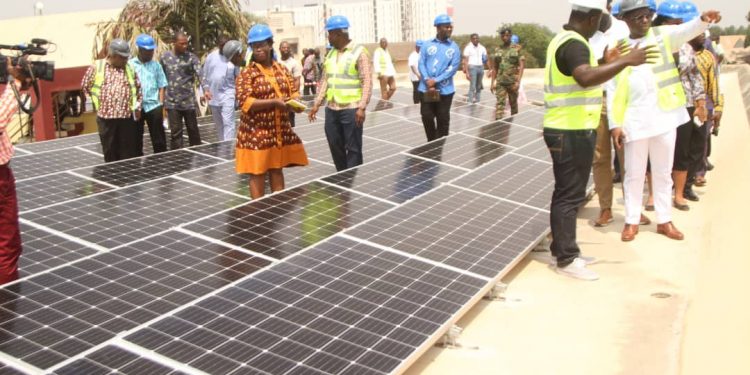 Jubilee House eyes 60% reduction in electricity bills as solar panel installation begins
The government's much anticipated solar installation at the Jubilee House has commenced.
The 912 kilowatts solar panels are expected to power 60 percent of the seat of government.
Touring the facility on behalf of the President, Energy Minister, John Peter Amewu said the project is expected to be completed by June 2020.
"We expect that it will be completed in six months. So depending on the speed with which the engineers are working, it should be done before July. I have that assurance to Ghanaians. The capacity I am told is 912 kilowatts. It will not be able to power the whole jubilee house so this will come in as a supplement."
In February 2019 during the President's State of the Nation's address, President Akufo Addo disclosed that the seat of government will by August that year be powered by solar.
The August 2019 deadline given by the President was not met.
He believed the installation of the solar panels will reduce government's liabilities to the Electricity Company of Ghana (ECG).
"Jubilee House will also be powered, as from August this year, by solar energy, as an example to other public institutions. In fact, the government's target is to install up to 200 megawatts of distributed solar power by 2030 in both residential and non-residential facilities in order to reduce Government's liabilities to ECG (PDS Ghana Ltd)" President Akufo Addo said.