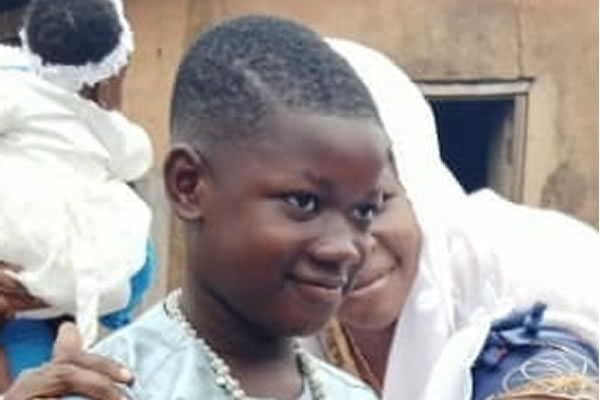 Kasoa ritual: Murdered 10-year-old boy to be buried today
The 10-year-old boy allegedly murdered for money rituals at Kasoa in the Central Region is expected to be buried today in line with Islamic tradition.
The police are expected to release Ishmael Abdallah's body to the family for the burial processes to take place.
Ishmael Abdallah was allegedly killed by two teenagers seeking a quick route to riches.
A fetish priestess had demanded body parts from the two in addition to GHC 5000 to perform money rituals to make them wealthy.
The spokesperson for the family, Mr Samed Akalilu, revealed that they were expecting to have the body on Wednesday, April 7, after they went to the court, but that did not happen.
However, they have been assured of getting the body today [Thursday, April 8].
Central Regional Minister Justina Marigold Assan had promised the family they would receive the body and justice would be served to bring closure to the matter.
"By tomorrow [Thursday], the family will receive Ishmael's body so that we can do the needful. Regional Police Commander will come on Friday to assist with the necessary arrangements as well," She promised.
The Regional Police Commander, DCOP Mrs Habiba Twumasi Sarpong and Awutu Senya East MCE, Michael Essuman Mensah, accompanied the minister.
Meanwhile, the fetish priestess who allegedly issued the instructions have been arrested by police at Amanase near Suhum in the Eastern Region.
She is to assist in investigations on her role in allegedly instructing teens to provide human parts for rituals.
How was Ishmael killed?
Felix Nyarko and Nicholas Kini lured their victim into an uncompleted building and reportedly killed him.
Felix is a 16-year-old mason labourer and the first accused, while Nicholas is an 18-year-old student and second accused.
He was playing a video game when his playmates, who are known residents in the area, called him into the uncompleted building.
Per the reports, the accused persons hit Ishmael with an object which resulted in instant death.
According to sources, the incident happened at the Kasoa suburb of Lamptey Mills on Saturday, April 3, 2021, between 5 pm and 6 pm.
Ishmael lived with the mother and sister at Kasoa, whilst the father lived elsewhere.
According to Ishmael's mother, the father had travelled and had not been able to visit them for some time.
As a practice, the mother of the deceased said the boy often attends Islamic lessons on Saturdays but failed to do so on that fateful day because he was waiting for his father, who had promised to visit.
The mother said Ishmael's sister rushed in to inform her that he had been killed.
The residents apprehended the teenagers and reported the case to the Kasoa police.
They were arraigned and scheduled to reappear at the Ofaakor District Magistrate on April 20, 2021.