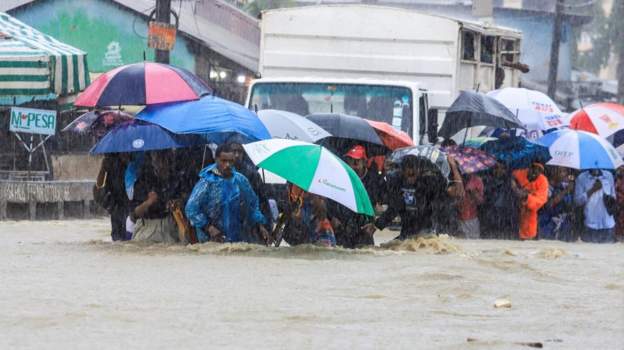 Kenya flood toll rises as recovery of bodies continues
The bodies of two employees of Kenya's tax agency who had been swept away by floods while driving in the coast region on Friday were recovered on Sunday.
The Kenya Coast Guard also retrieved the body of a man who was swept away while riding his motorbike.
Authorities on Saturday said that 10 people had been confirmed dead at the coast following three days of unrelenting heavy rains and floods.
More than 20,000 families have been displaced across the three affected counties of Mombasa, Kilifi, Kwale and Tana River, the Coast regional police commissioner Rhoda Onyancha said on Saturday.
Overall, dozens of people have died and thousands displaced across the country since the beginning of November after heavy rains and floods caused by the El Niño weather phenomenon.
The heavy rains and resulting floods have killed dozens more in neighbouring countries, including Somalia and Ethiopia.