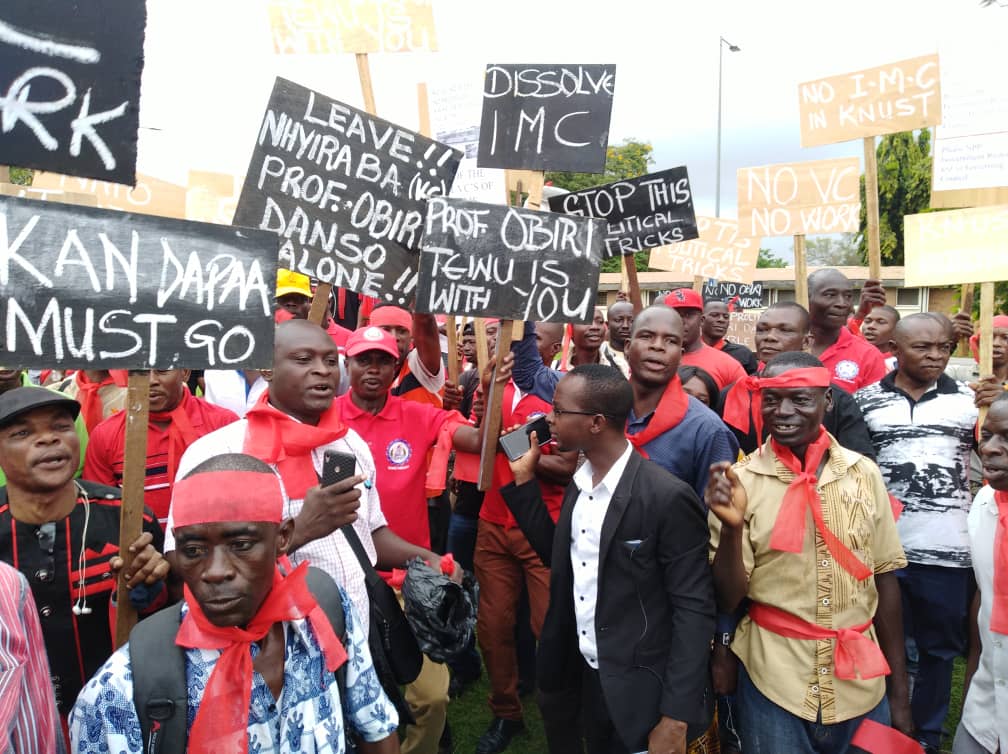 KNUST: UTAG threatens Nov 19 strike 'until further notice'
The Kwame Nkrumah University of Science and Technology (KNUST) branch of University Teachers Association of Ghana (UTAG), has formally notified the National Labour Commission (NLC) that it may be forced to withdraw some of its services on November 19, 2018.
A copy of the letter to the NLC, sighted by Joy News, accuses the government of undermining efforts by KNUST Chancellor, Otumfour Osei Tutu II, to resolve the impasse at the Kumasi-based university.
"Should government continue its refusal to restore Council, UTAG-KNUST resolves to withdraw teaching and library services until further notice," the teacher union informed the NLC in the notice.
Break down
Talks between the government and teacher unions over the composition of the Governing Council of KNUST broke down this week, scuttling efforts to re-open the school for academic work to begin.
The university, which was closed down after student destroyed properties in a fierce demonstration against school administrators, was scheduled to re-open on Thursday, November 8, as part of a roadmap to restoring peace on campus.
A key part of that roadmap was for the Chancellor of the University, Asantehene Otumfuo Osei Tutu II, to re-constitute the Governing Council of the school.
The old Council was dissolved by the government and replaced with an interim Council in the wake of the student uprising.
Demands
While the government is asking the University Teachers Association of Ghana (UTAG) to change all its representatives on the new Council, UTAG insists its old representatives will remain, condemning government's demand on UTAG as meddling.
On Wednesday, teacher unions in the country presented a united front against the government.
The unions described the government's hard stance on the composition of the new Governing Council as intrusive.
At a joint press conference on Wednesday, the UTAG and Teachers and Education Workers Union (TEWU) said they will not yield to government's demand that UTAG should select only new members to represent it on the Council.
In the letter to NLC, UTAG reiterated that position, accusing the government of a lack of commitment to resolving the impasse.
"In the past few days government has demonstrated that it is not committed to the resolution of the impasse but rather to the undermining the effort of Otumfuo under the current circumstances, UTAG is of the firm belief that the government is unwilling to constitute the Governing Council to restore academic normalcy," UTAG-KNUST accused the government in the letter.
Meanwhile, the Minority Spokesperson on Education, Peter Nortsu-Kotoe, has urged the government to allow the unions to keep their representatives on the council.
"We expect government to back down on its entrenched position that the former members of the council who members of the unions and other organisations should not be members of the new council," the Legislator said.
source: Myjoyonline