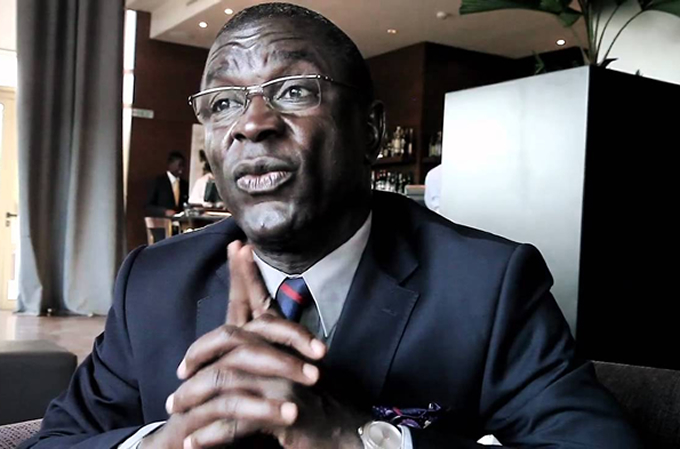 Kofi Amoabeng 'summoned to court'
Entrepreneur Kofi Amoabeng who co-founded UT bank, now defunct, has been arrested, theghanareport.com has learnt.
The arrest is in connection with the collapse of UT bank on August 7, 2017, after it became insolvent.
JoyNews has reported that he was picked up in his office in Accra Tuesday morning and sent to Circuit Court Four.
Kofi Amoabeng along with William Ato Essien are two bank founders who lost their licences on the same day.
Already Ato Essien is standing trial on 26 charges including stealing of various sums of more than ¢260 million.

Photo: Ato Essien
The Managing Director of the bank, Fitzgerald Odonkor, and two other persons — Tettey Nettey, the Managing Director of MC Management Services, a company said to be owned by Essien, and Kate Quartey-Papafio, a businesswoman and Managing Director of Reroy Cables Company Limited are also being prosecuted.
State charges Ato Essien, 3 others over collapse of Capital Bank
Mr Amoabeng has taken responsibility for his banks' demise. But he has also blamed the challenges in the banking sector on the regulator's poor scrutiny of the sector.
In an interview with JoyBusiness in August 2019, Mr Amoabeng said, banking licenses were issued anyhow and to all sort of people without proper checks causing the current crisis in the banking sector.
"In recent times, because of politics and the way we play politics, it's a matter of 'whom you know'. So licenses were issued anyhow in so many numbers to all sort of people. That is what caused the problem. The people were not checked properly."
A Bank of Ghana authorised investigations done by the auditors, Boulders Advisors Limited revealed that some loans granted by UT Bank were flagged by auditors as flouting prudential regulations.
It said a review of 'Loans Granted to Related Parties Not Connected to the UT Group' found that there were "poor credit management practices, poor credit governance and supervision."
Mr  Amoabeng criticised the Bank of Ghana's procedure for closing banks, citing the closure of his bank as a case in point.
"We didn't need policemen at dawn – at 6 am as if it is a Rawlings coup. And then GCB staff and the press at 6 am to close a bank and then go and destroy signages as if they are some Satanic shrine…that is not how banks are closed," he said.
He said there must be a clearly defined process for closing banks.
"I am not saying UT should have been kept at all cost. If UT was not doing well and the government decides that it must close us down, close us down as the process required," he said.
Targeted
In September 2019, Mr Amoabeng fired shots at Ghana's political leadership over the collapse of his UT Bank, claiming the bank was targeted because he refused to fund any political party.
In any hold-back interview with TV3, Mr Amoabeng revealed that his company "never gave money to any political party" for the over 20 years it existed, a policy he indicated, ruffled political feathers, leading to the end of the financial institution in 2017.
For him, politicians do not mean well for the country for which reason he was not ready to give his money to support them to win political power to superintend over corruption.
"I said I don't trust that they meant well for this country," Mr Amoabeng said, adding "I wasn't going to give them my money for them to come to power and be corrupt on the people. That was my policy".
According to him, the only time his money went into politics was when his sister, who he did not name, stood for primaries.
Amoabeng also said on other platforms in October that observed that indigenous businesses thrive on political mentor's whims and caprices especially, if one was prepared to accommodate their demands.
He said he should not have allowed his time tested principles of not accommodating politicians, religious leaders and traditional leaders to have the better side of him, adding, that must have led to the collapse of his business empire.
Mr Amoabeng said his flagship investment, UT Bank lost a chunk of the empire when the Bank of Ghana (BoG) revoked the banking license of UT Bank and placed it under receivership at the time its liabilities far outweighed the assets.