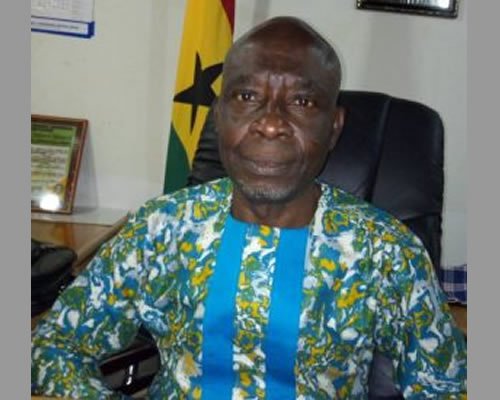 Kpando NPP executives disrupt sod-cutting ceremony, demand DCE's removal
Constituency executives of the governing NPP in the Volta Regional town of Kpando have disrupted a sod-cutting ceremony for a 20 unit stores project at the Kpando Torkor market.
According to the executives, the contract for the stores was awarded to a company owned by a financier of the opposition NDC.
After disrupting the ceremony, they marched through the market before addressing the press.
The Kpando NPP General Secretary Eric Dapaah told journalists the Municipal Chief Executive Elvis Djampoh has ignored party structures and runs a family and friends administration at the assembly.
"He is collapsing development within the municipality", the NPP executives fumed.
The executives planned to send a petition higher up the party and demanded the immediate removal of the President's representative in the area.
"We want a prompt action to be taken within one week…otherwise, we will advise ourselves".
The MCE has rejected accusations of cronyism in the award of the contract and denied knowledge of the contractor's political affiliation.
"He is a very popular local contractor. This contract was duly advertised in the papers…and the best bidder was picked", the former teacher and retired educationist told Joy News regional correspondent Fred Kwame Asare.
Elvis Lawrence Kweku Djampoh was confirmed as the Municipal Chief Executive of the Kpando Municipal Assembly at a Special General Assembly Meeting held on 17th May, 2017 when he polled 71.4% of votes cast.
The incident will do nothing to disperse growing concerns about lawlessness under the Akufo-Addo administration.
Since elected into office, several of the President's appointees at the local government level have been under attack from party executives and members for several reasons such as running a 'one-man show', ignoring the party at the constituency level and sidelining the party executives in the award of contracts.
In October 2017, NPP sympathizers in Gwollu in the Sissala West district of the Upper West region locked up the DCE's office and accused him of engaging in 'divide and rule' tactics.
In August 2018, irate NPP youths in the Upper West Akyem district of the Eastern region attacked the DCE Eugune Sackey at a public function at Adeiso.
They accused the DCE of hobnobbing with the members of their rival party, the National Democratic Congress (NDC) and destroying a grader belonging to the Assembly.
The tension between party executives and District Chief Executives have seen the executives at Sawla in the Northern region demand the removal of the DCE Lawal Tamimu as reported in the media in September 2018.
They accused the DCE of awarding contracts to himself.
Bole-Bamboi NPP executives also threatened to resign if the President does not remove the DCE for the area Veronica Alele Heming.
They accused her of failing to attend party meetings and denying the party access to her.
source: Myjoyonline