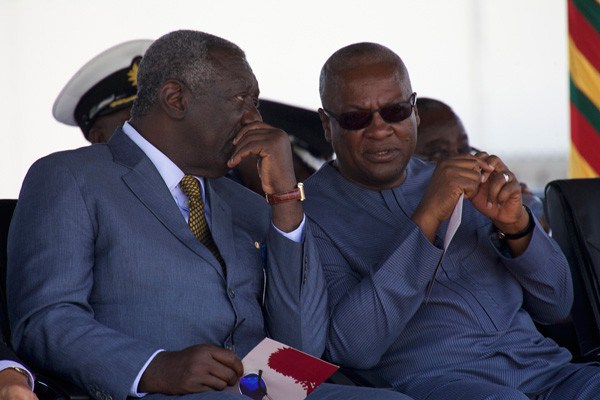 Kufuor, Mahama to sign Rawlings book of condolence on Monday
The State Protocol Department has released a schedule for the signing of the book of condolence the state opened in memory of the late President J.J. Rawlings.
According to a statement released by the department, former presidents, J.A. Kufuor and John Mahama will sign the book immediately after the Speaker of Parliament, the Chief Justice and Justices of the Supreme Court had done so on Monday, November 16.
The two former heads of state are expected to sign the book between 10:15 am and 10.45 am.
The department stated that the schedule was meant to tame the spread of COVID-19.
Below is the schedule:
The arrangement comes on the back of claims of the NDC last Friday that its flagbearer, John Mahama, was denied an opportunity to sign the book of condolence opened for Ghana's longest-serving leader.
The party claimed Mr. Mahama, and a delegation he led to eulogise their fallen founder, were told the book opened at the Accra Conference Center had been closed for the day, hours after it was opened in memory of Mr Rawlings, who died on Thursday, November 12.
"They [State Protocol] told us the book has been closed and it will be reopened on Monday, "Ofosu Ampofo, NDC National Chairman told Accra-based Asempa FM.
He said they had gone to empathise with the Rawlings but before they left Dr. Zanetor Rawlings told them the State had opened a book of condolence.
"While we were there Dr. Zanetor Rawlings came to tell us that the State had opened a book of condolence at the Accra Conference Center to we drove there to sign it but the State Protocol told us they had closed for the day".
Angered by the incident, the NDC opened its own book of condolence at the party's headquarters.
Penning down a tribute to the man who offered him his first political job as a deputy Minister of Communication, Mr Mahama wrote:
"Boss,
It is difficult to come to terms with your shocking exit. But you've always been unconventional and acted on your own terms. The rest of us your comrades are left to mourn you. But beyond mourning your departure, we have a duty and responsibility to ensure that your person and your principles receive their deserved place in the history of Ghana."
Former President Jerry John Rawlings passed away on the morning of Thursday, November 12, 2020, at the Korle Bu Teaching Hospital following a short illness.
The patriarch of the Fourth Republic led Ghana from December 31, 1981, to January 7, 2001, when he handed over to J.A. Kufuor.