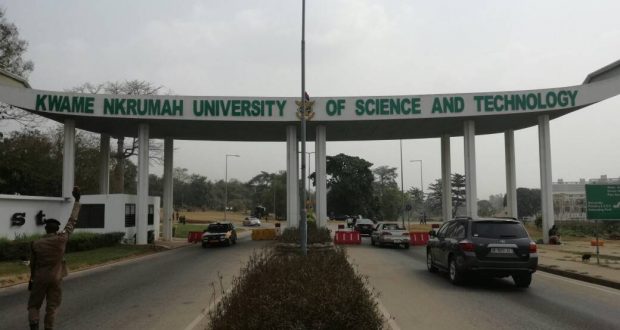 KNUST: Gov't sets up interim Governing Council
Following meetings between the government, authorities of the Kwame Nkrumah University of Science and Technology (KNUST), and other stakeholders over the recent violent protest by students, the Governing Council of the university has been dissolved.
A statement from the government on Thursday, October 25, said a seven-member Interim Council will be put in place to oversee the affairs of the school, while the school which has been closed since Tuesday following the violence, will be opened within 14-days.
The government said the interim council will be chaired by the Paramount Chief of Bompata Traditional Area, Nana Effa Apenteng for the 3-month period it has been given to serve.
The new council is also expected to expedite the reopening of the university.
The members of the council are:
Nana Effa Appenteng
Prof. Mrs. Rita Akosua Dickson
Dr. Edward Baffoe-Bonnie
Madam Hilda Haggar Ampadu
Prof. Joshua Ayarkwa
Mrs. Abena Antwi
Mr. Kelvin Sah
The mandate of the interim council are:
To assume the powers of the governing council
To establish the causes of the recent student riots on campus
To establish the full extent and cost of damage caused
To resolve the differences between university management and the student body
Background
The arrest of 10 students and one alumnus of the school compelled the Students' Representative Council (SRC) to mobilize for the Monday protest.
The students were arrested for a holding vigil on campus last Friday without permission, according to the school authorities.
One other student who was allegedly manhandled by the internal security was hospitalized at the KNUST hospital.
The Executive Council of the SRC said the demonstration was necessary to convey students' frustration over disrespect and oppression by the school.
The arrests came after the KNUST management served notice that it had suspended the organization of vigils (morales) in the school.
The management said this was because of "several negative issues encountered recently concerning morales in the hall."
Some of the protesters called for the removal of the Vice-Chancellor.
The SRC said the actions of the campus security and the police officers were a "gross deviation" because the two agencies were instead to protect them.
The Council also promised students that it would ensure the security officers who allegedly beat up students are held accountable while urging students to remain calm.
Over 20 students were arrested following the incident.
A day later, the school was closed down indefinitely.
source: citinewsroom