Machete-wielding residents chase MP over bad roads
Three communities in the Atwima Nwabiagya South Constituency in the Ashanti Region pounced on their Member of Parliament (MP), Emmanuel Agyei, with cutlasses over the deplorable roads in the constituency.
The MP was pursued by residents of Kobeng, Seidi, and Amanchia when he visited the communities for a dialogue on Wednesday, 24 August 2022.
Residents who were agitated by the poor state of the roads staged a protest on Wednesday to express their displeasure with the legislator.
The Wiawso–Antoakrom road was milled for renovation three years ago.
The reason was that the road was filled with potholes, which hindered traffic flow in the area.
However, reports indicate that the contractor abandoned the construction of the drainage systems.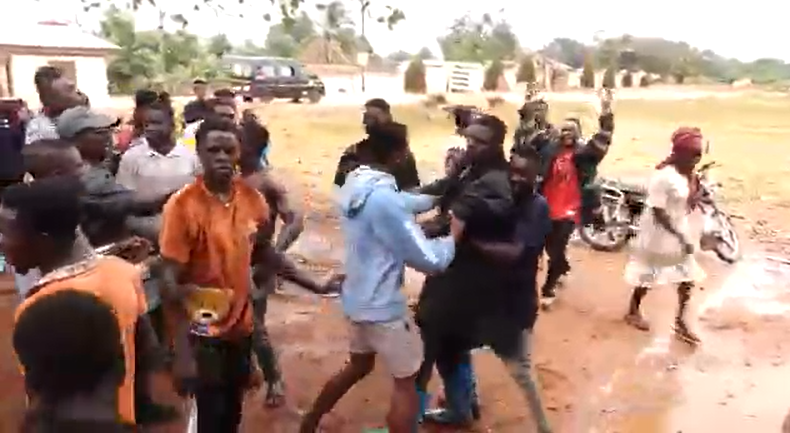 The village chief in Amanchia declined to go to a meeting where the MP was supposed to hear the community's worries.
However, Emmanuel Agyei urged his constituents to be patient as plans were in place to get the contractor back to work.
This is not the first time residents have attacked an MP over the failure to provide basic infrastructure.
In July 2022, a group of agitated artisans and spare parts dealers at Suame Magazine also pelted the Member of Parliament for Suame, Osei Kyei- Mensah-Bonsu and his entourage with sachet water and other items.
The artisans were angry over delays by the government in fixing the deplorable Suame Roundabout-Maakro stretch of the main Kumasi-Techiman Road, which they said was not only hampering businesses but also threatening lives.
A swift police intervention saved the MP, the Majority Leader and Minister of Parliamentary Affairs, from being attacked by the angry artisans.
Later, Mr. Kyei-Mensah-Bonsu told the media he was not worried about the conduct of his constituents.
"I am the face of government so if they are really angry that it's been a while since the scraping of the surface and dust is killing them, certainly when they see any government official, they will vent their spleen on the person, so I am not worried."
The Majority Leader, who has represented the Suame Constituency since 1996, told the press he understood the concerns and conduct of the agitated artisans.
"Last week, here at Suame Magazine, there was a major demonstration. It had to do with the refurbishment and reconstruction of the main highway, that is, from Suame Roundabout through Maakro to Afrancho.
The road had developed several potholes and it was causing some accidents. As a result, the Minister of Roads and Highways awarded a contract to a contractor to refurbish and indeed reconstruct the road," he explained.