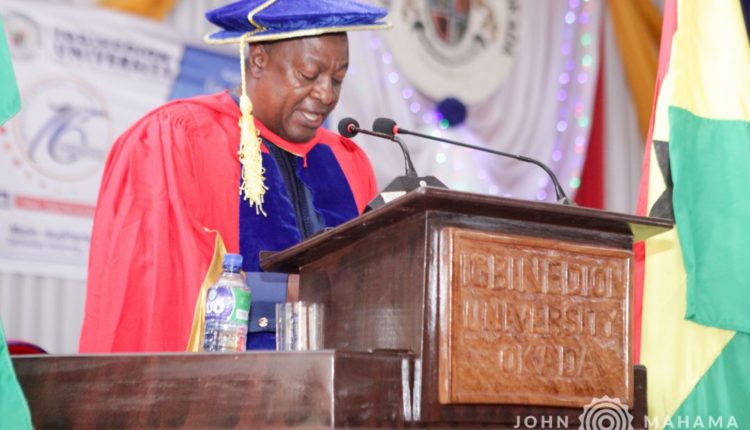 Mahama wanted to teach at UDS than become running mate – Manasseh's Book reveals
A fascinating book into the life of former President John Mahama reveals the then National Democratic Congress (NDC) MP for Bole/Bamboi constituency wanted to quit politics.
The Fourth John written by investigative journalist Manasseh Azure reveals John Dramani Mahama wanted to lecture at the University for Development Studies (UDS).
Mahama had studied for a postgraduate degree in 1988 at the Institute of Social Sciences in Moscow in the Soviet Union, specialising in Social Psychology.
This was after completing a degree in History in 1981 at the University of Ghana and obtaining a postgraduate diploma in Communication Studies in 1986.
After working at the Embassy of Japan and later international non-governmental organisation, Plan Ghana,  Mahama ventured into national politics.
The 39-year old graduate was elected the Member of Parliament for Bole/Bamboi constituency in 1996.
He held the seat for three terms before becoming running mate to 2008 NDC Presidential candidate Prof. John Evans Atta Mills.
The admission letter that almost came
But that almost didn't happen as John Mahama contemplated a move into the classroom.
Being in Parliament since 1997, John Mahama told his associates he would not be seeking another term in Parliament in the 2008 parliamentary elections.
From 2006, he had resolved to pursue a Ph.D. and had begun the admission process, the book reveals.
"The northern caucus had the agenda of grooming him for the presidency. The 2004 election was his last parliamentary had told friends and people around him that he would go back to school and transition into the next phase of his life, outside politics.

"I had started the admission process and was school. I had told my constituents that I wasn't going again. The University for Development Studies had just started and I wanted to contribute to the intellectual base of that university and impart knowledge," Mr. Mahama said.
But the man who had won respect from both sides of the political divide had been penned down as running mate to Prof Mills.
Prof Mills had picked two running mates, former deputy Attorney-General Martin Amidu in 2000 and former NDC MP for Kumbungu, Muhammad Mumuni in 2004.  But lost both elections to the NPP's John Agyekum Kufuor.
He was becoming a serial loser. He had one last crack at the Presidency in the 2008 polls. Political advisors settled on Mahama who was firming up plans to settle in academia.
The change that changed everything
Manasseh's book reveals it took a lot of convincing and party pressure to get John Mahama to change course.
"Getting Mahama to rescind his decision of going to school was part of the initial resistance which Bagbin and others had to deal with. They told him he should think beyond himself, that he was being supported to represent a bigger interest, a service to his people. He was carrying the hopes and dreams of the north and he should not let his people down. They managed to convince him and his family also supported the ambition to get him to the next step of the political ladder. President Mills reportedly sent a respectable traditional ruler to speak to him at a point."
A change which when it occurred changed the fortunes of the NDC and his own. The NDC won the 2008 presidential elections and Mahama at 50 years old would become Vice-President.
In July 2012, he would become President after Prof Mills died in office.
John Mahama won the 2012 presidential elections, becoming the first President, in the Fourth Republic, to have come from the northern part of the country.
He would however also become the first to lose power after one-term.
Dr Hilla Limman became the first northern to become President in 1979 (the Third Republic.)