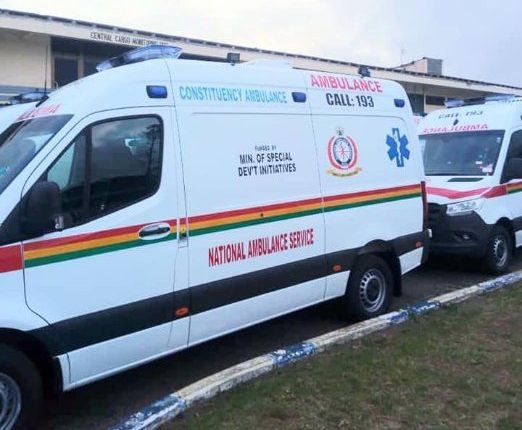 Major boost for emergency care as 96 ambulances land
Ghana's emergency care is expected to see a tremendous improvement as government hopes to take delivery of the full complement of brand new ambulances by November.
So far 96 of the 307 ambulances purchased by the government, are in the country with the latest fleet of 48 arriving in this weekend. The government took delivery of the first batch of 48 fully installed ambulances a couple of months ago.
And by the projected timeline, the government is expected to have at least 275 fully installed ambulances to be distributed across the country's 275 constituencies.
"In the history of Ghana, this is the largest fleet that has been procured," an elated Chief Executive of the National Ambulance Service (NAS), Prof. Ahmed Nuhu Alhassan, announced to journalists Saturday, September 21.
"The good news about these ambulances coming is that, they are good for every purpose…and exceeded the international standards because we [NAS] were involved in every stage of the installation," he added.
The National Ambulance Service which was established in 2004 with seven ambulances, currently has 133 operating across the country.
This, however, is woefully inadequate following the expansion of pre-hospital care, which is the main objective of the government to have at least one ambulance dedicated to each constituency.
The Ministry for Special Development Initiatives, is the special purpose vehicle being used to spearhead developmental projects through the various development authorities – Northern Development Authority, Middle Belt Development Authority and the Coastal Development Authority.
Sector Minister, Mavis Hawa Koomson, stated that the distribution of the ambulances to every constituency is part of the government's programme of providing the equivalent of $1 million per constituency per year to bridge the development gap between rural communities and the cities.
According to her, the allocation of the medically equipped vehicles should be done by the first quarter of 2020.
She appealed to Metropolitan, Municipal and District Assemblies (MMDAs) ensure works at sites designated for the ambulances are finished on time so that the vehicles can be delivered without delay.
IPEP 
Technical Advisor in charge of Policy at the Office of the Vice President, Dr Mutaka Alolo explained, that the three Development Authorities are tasked with the implementation of the Infrastructure for Poverty Eradication Programme (IPEP), which is the supervising agency for the development authorities.
Their role he noted, is "to enhance a bottom-up development approach and to enhance local economies and bridge the development gap between urban cities and local communities."
Needs assessment teams put together for each of the regions, have since 2017, been consulting with opinion leaders, to determine and address the development needs of the local communities, Dr Alolo explained.
Key among the facilities following the assessments are water and sanitation systems which Dr Alolo said the government has been providing for the 275 constituencies.
He said the government would soon be handing over those facilities to their community leaders, for use.