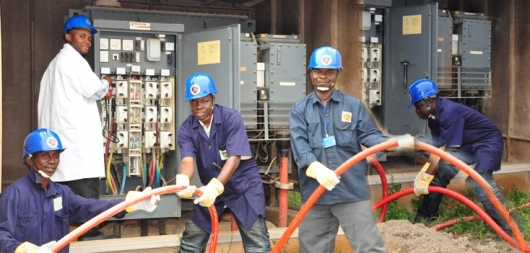 Manya Krobo Youth Warned Against ECG Attacks
The Manya Krobo Traditional Council in the Eastern Region has issued a warning to the youth of the area to refrain from attacking workers of the Electricity Company of Ghana(ECG).
This warning comes after a near attack on some ECG officials who were fixing transformers to restore power in the Kpongunor and Nuaso communities.
These communities had been plunged into total darkness since Wednesday, 20 July 2022, after the transformers were tampered with.
Nene Asada Ahor, the spokesperson for the council, said that anyone in Manya Krobo who attacks workers of the ECG would be handed over to the appropriate law enforcement agencies.
He added that the electricity company is only there to work for the benefit of the area, so problems between them should be solved amicably.
"If there is anything at all, the ECG is there for the people of Manya Krobo and working for them. For that matter, if there are problems, and they have to be solved, anybody that takes the law into his or her own hands and attacks any official, the law will deal with that person," he told Citi News.
In June this year, residents of Nuaso in the Lower Manya Krobo Municipality clashed with ECG officials and the Military, who attempted to install prepaid meters in the community.
The soldiers were assisting the ECG with the installation of new prepaid meters following months of hostility between residents and the power company over the payment of electricity bills.
Parliament instructed the Minister for Defence to order the immediate withdrawal of the soldiers from the constituency in order to dissipate the tension that was brewing.