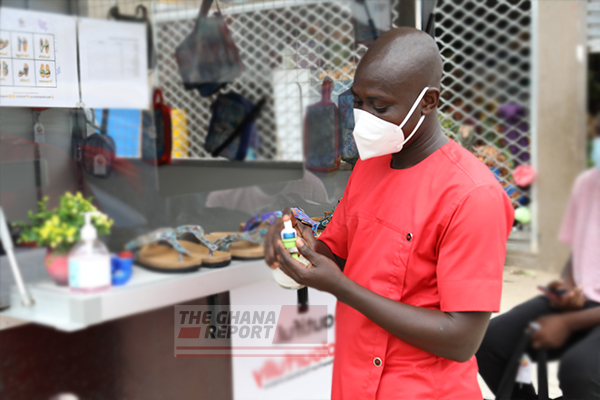 Just two or three steps in the city and you are likely to see a pile of refuse.
But what you do at that exact moment may be key to Ghana's development, particularly in the fight against the plastic waste menace.
Some may choose to walk away unconcerned, others add up, turning that particular spot into a mini dump.
And many may generally scream at the level of indiscipline or the level of negligence of local authorities.
But that was not the case for the Chief Executive Officer (CEO) of MckingTorch Africa, Makafui Awuku.
Mr Awuku is a social entrepreneur who is transforming plastic waste into fashionable and impressive works of art.
It was his continuous encounters with plastic waste that birthed the MckingTorch Africa dream.
Theghanareport.com got up close with the social entrepreneur, who is running a project that turns some of Accra's tons of waste into quality footwear and others.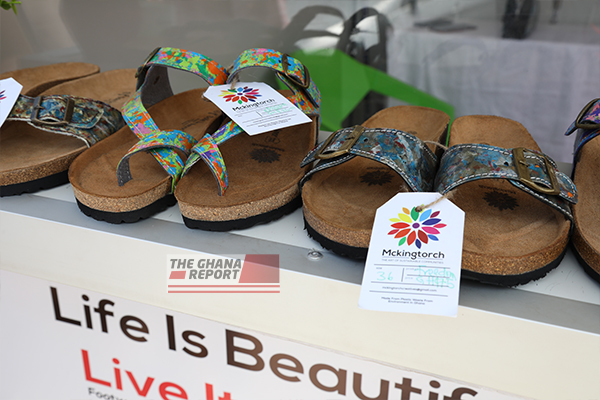 Mr Awuku tells theghanareport that the dream started some 13 years ago in 2007 while studying waste management.
"It was an optional course, and I thought in the near future, experts would require sustainability professionals so I decided to join in anticipation for opportunities.
"Then, I didn't know what I was going to do with the knowledge acquired, but since I was passionate about solving problems, I took the training," he said.
Months after the training, Mr Awuku said he was yet to put what he had learned into practice.
Fast forward to 2014, he had the opportunity to work with One Ghana Movement, led by Senyo Hosi, on a sanitation project.
He said it was during that time that he realised he could make something out of what he had been taught back then in the university.
Mr Awuku said it was after one of the regular meetings at work that he took note of the water bottles that had been left by colleagues.
He then asked the cleaners to keep all the plastic bottles for him.
After gathering lots of bottles in November, he thought to himself, "It was almost Christmas and what could be a special santa gift for the entire neighbourhood."
The idea of a plastic Christmas tree immediately came to mind.
Mr Awuku estimates that he used over 300 bottles for the Christmas tree.
"It started with a lot of preparations. I got the technical guys to help out, and on the eve of Christmas, the tree was ready. I put the tree on my street for all to see.
"Everybody came out in their numbers, Christians, Muslims…they were all laughing, smiling and taking pictures. I have never seen so much excitement before.
"Since then, every year, we pick one major street in the country's capital, Accra, and send a plastic Christmas tree there," he said beaming with smiles of a 4-year-old.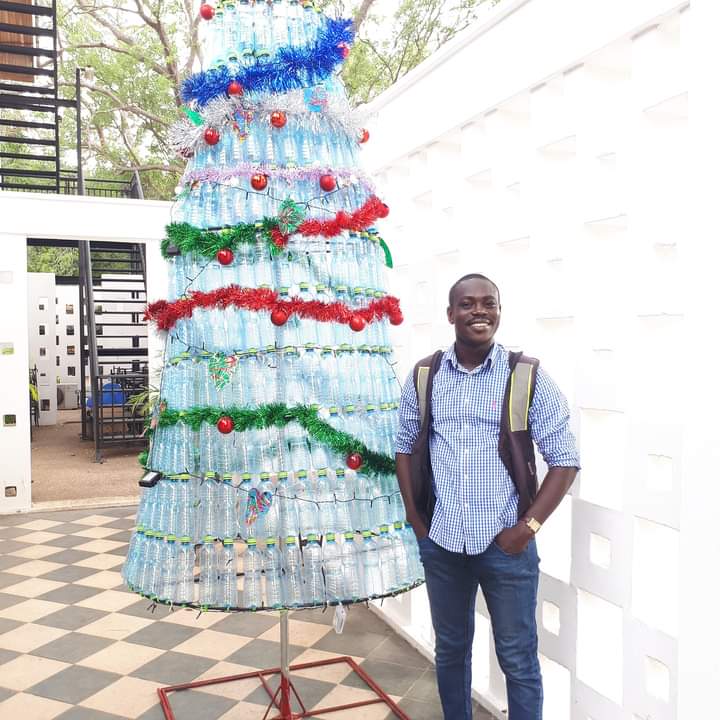 A walk around parts of the city's major streets like Madina, Lapaz, Circle, had the glowing plastic Christmas tree.
He said he had no idea, "the birth of a Christmas tree" was going to turn into a business venture.
Mr Awuku said he currently has at least five staff working directly for him and over 100 volunteers in Ghana, Canada, United States and Germany.
Asked how he is able to fund the various projects and also pay his employees, he states that the company mostly relies on grants and benevolent individuals who believe in the Mckingtorch Africa dream.
But aside the financial constraint, he said the biggest challenge he encounters everyday is with acceptance and patronage of his products by Ghanaians.
"There are a lot of misconceptions about the products that we do. Some feel because its made from plastic waste, its not strong and it won't last.
"Other look at the prices and take a step back, with questioning eyes. They ask, why is it so expensive, is it not made from plastic waste?" he said with a deep sigh.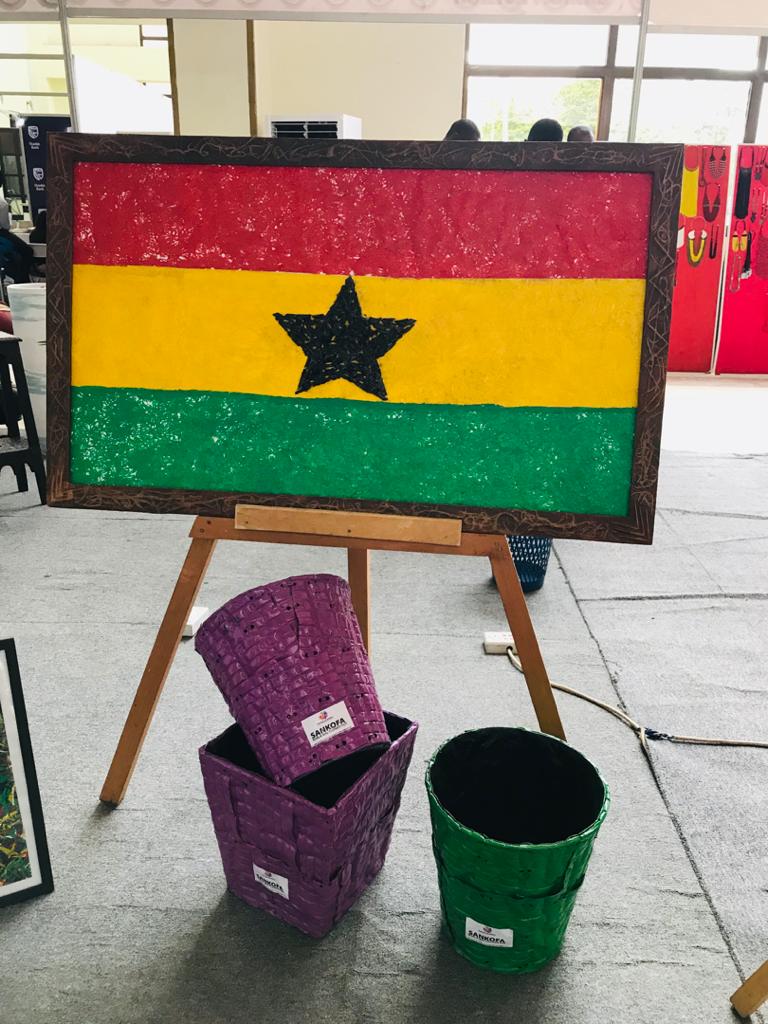 But the pertinacious social entrepreneur said, "he knows where the vision is for Mckingtorch Africa and won't give up on the global brand."
For the youth who would like to take the path of entrepreneurship, he urged them to always believe in their dreams and pursue it.
The Mckingtorch Africa CEO believes it is also important to create a narrative around every journey you take.
"I am always creating a narrative around my journey. So for the people who were there when we started, they have seen how far we have come.
"They have seen the gains that we have made. Somebody who wants to be an entrepreneur must always think about the gains that he/she would make.
"Working for people is hard, working for yourself is even harder. As an entrepreneur, you act as the security man, cleaner, managing director and errand boy.
"It can be difficult, it may be easy to work for people but if you are not being useful the person can sack you so always create opportunities from problems," he urged.
The social entrepreneur currently has a pop-up stall at the 37-Total Filling station in Accra and hopes to educate more people on how to recycle plastic waste.
Mr Awuku believes his work is playing a critical role in finding solutions to the plastic waste problems bedevilling the country.
The plastic waste menace continues to be a big challenge, with its unending pollution lingering on in the society.
Streets and waterways in Accra, and other urban areas in Ghana are regularly inundated with single-use plastics.
Plastics such as shopping bags, pure water bags, takeaway food boxes, water bottles, among others, find its way on major streets in the country.
Despite Ghana drowning in plastics waste, the government is yet to take a decision on banning plastic usage.
President Akufo-Addo, on his assumption of office created a separate ministry purposely to rid the city of filth.
He promised to make Accra the cleanest city before his tenure ends, but the country's capital is still engulfed in filth.
Residents in most areas in Ghana regularly burn plastic waste in the open, releasing toxic substances such as dioxins and furans into the environment.
Burning of residential trash with high plastic content is a major source of air pollution in many developing countries.
According to the World Health Organisation (WHO), more than 28,000 premature deaths in Ghana every year have been linked to air pollution.
The road to getting rid of plastic waste may seem long, but Mr Awuku is convinced a partnership with the government can help deal with this menace.
The social entrepreneur said he is yet to receive a reply from the sanitation ministry on the proposed solutions suggested by his outfit to dealing with plastic waste.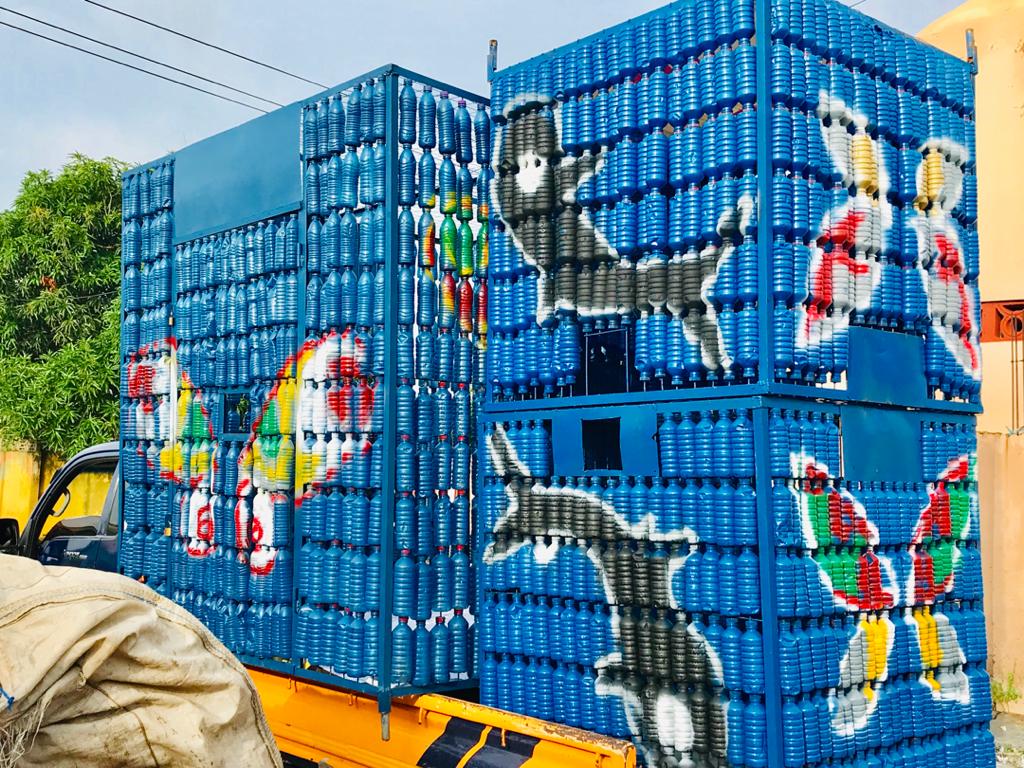 Statistics on plastic waste in Ghana
A study conducted by an environmental engineering expert of the University of Georgia, Prof Jenna Jambeck, revealed that Ghana generated 302,192 kg/day of plastic waste in 2010.
This figure, she said, was more than 4 times generated in Kenya per day during the same period.
The study also found that 81% (around 244,835 kg/day) of the waste was inadequately managed.
On the average, each person in Ghana generated around 0.04 kg of plastics per day in 2010.
Overall, around 6,044 kg of plastics were littered in Ghana every day. In comparison, only 1,466 kg of plastics were littered in Kenya every day within the same period.
A recent study conducted by the Holland Circular hotspot, in July 2019, showed that the waste output in Ghana stood at 22, 500 tons per day.
National Plastic Action 
President Nana Addo Dankwa Akufo-Addo on October 1, 2019  launched the National Plastic Action Partnership (NPAP) with the conviction that it will be a game-changer in the management of plastics in the country.
The policy was expected to lead to the promotion of green alternatives, nurture the development of new business models for job creation throughout the value chain and develop systems and infrastructure across the country to ensure that the waste was turned into value added products.
The GPAP aims to create a world free of plastic pollution and ensure that plastics are manufactured, used and re-used in a sustainable way.
But almost a year later, the country is yet to feel the impact of the policy.
Watch the full interview below
Watch a video showing products made from MckingTorch Africa