Military storms Parliament amidst deadlock over Speaker election
Military storm parliament
A standoff between NDC and NPP legislators over secret voting resulted in hours of delay in selecting a Speaker of Parliament, leading to the military being invited to protect the ballot box.
The controversies in parliament took a dramatic turn at about 3.40 am when armed soldiers entered the House and marched to the centre of the chamber close to where the voting was to be undertaken.
This happened because an NPP MP publicly showed his vote contrary to the House rules, which stipulates a secret ballot.
Angered by the development, NDC MP for Asawase Muntaka Mubarak took the ballot box, halting the process after the first NPP MP cast his vote.
It's the first time in Ghana's history that the military had entered parliament while the House was in session.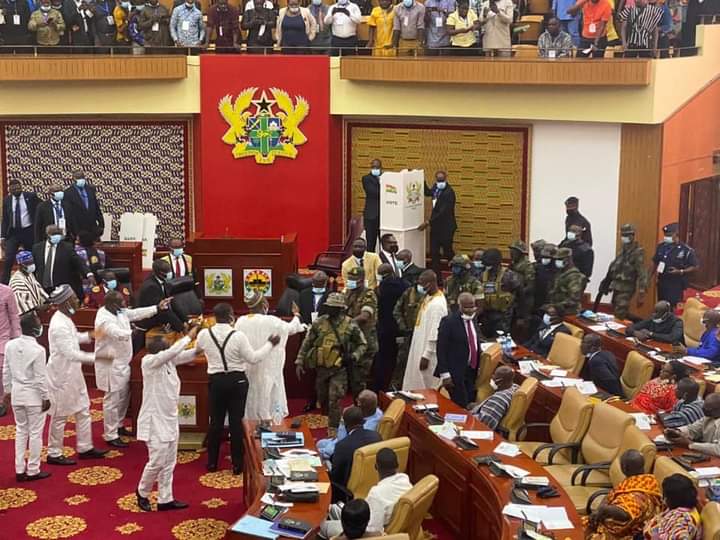 The contingent was about 15 soldiers and a few police officdrs also assembled to assist.
"Your actions are tantamount to an attack on our democracy, and we shall resist it," one of the NDC MPs could be held screaming as the soldiers shoved and pushed the new legislators.
The NDC lawmakers broke into song, singing part of the national anthem which relates to resisting oppressor's rule.
However, the police and parliamentary marshall ushered the military out of the chamber after about 30 minutes.
The NDC members also chanted revolutionary songs.
For more than two hours, the two sides of the House had been confrontational as they both tried to outdo each other to get the Speaker from their side.
At about 4:00 am, calm returned but the Chief Justice who had been in the House since 10.30 pm the previous day to swear-in the Speaker, was escorted out of the chamber.
After the chaos, the leadership of the House went into a caucus meeting to find a lasting solution to the impasse which had delayed the voting for more than four hours.
All these occurred after a U-turn by the Clerk of Parliament Kwabena Oteng Nsiah.
Earlier, he declared Assin North MP-elect James Quayson a persona non-grata in Parliament.
An injunction had been placed on Mr Quayson by a Cape Coast High Court from holding himself as Assin North MP after his nationality was challenged.
The Clerk said that he had been duly served and therefore did not recognise Mr Quayson as a legitimate member of the quorum.
The Clerk explained the consequence of Mr Quayeson's continued presence in the House, and attempt to take part in parliamentary activities in contravention of Article 105, which bars non-legislators from voting.
When voting resumed at about 4:30 am, MP for Tamale South Haruna Iddrisu called for respect for the secret ballot in order to protect the sanctity of the exercise.