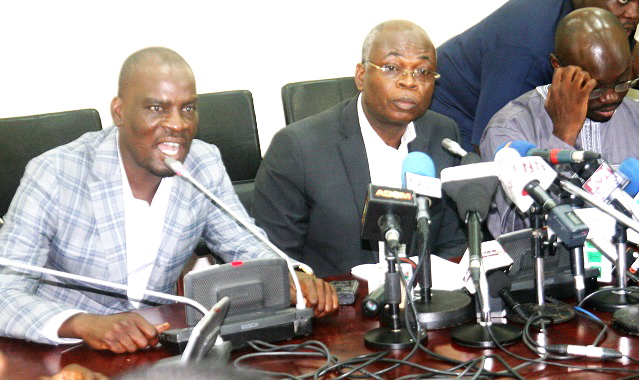 Minority outlines five issues revised 2022 budget should address
Minority in Parliament has outlined five key issues that should be captured in the revised 2022 Budget and Economic Policy of the government.
In a statement issued on Sunday, the Minority stressed that until government withdraws certain policies and initiatives, it will not approve the budget presented by the Finance Minister Ken Ofori Atta on Wednesday, 17 November.
The demand comes after Parliament on Friday, 26 November, 2021, rejected the budget after members of the Majority Caucus staged a walkout following disagreements over a vote on a last-minute request from the Finance Minister  to meet leadership of the house on the policy document.
Business of the day continued, leading to the rejection of the budget despite the walkout by the majority.
The Majority subsequently reacted, describing the Minority's decision as unconstitutional.
But the statement signed by the Minority Leader, Haruna Iddirisu refuted claims of unconstitutionality, describing his colleagues in the Majority as simply "irresponsible".
He urged them to accept the rejection in good fate.
Below are the five issues
1. Suspend the Electronic Transaction Levy (E-Levy): The Government should suspend the E-Levy and properly engage stakeholders to agree on a reasonable policy. How can mobile money payments, bank transfers, merchant payments, and inward remittances be charged 1.75 percent? The policy is not retrogressive, not pro-poor, and does not support the much-touted digitalisation agenda and cash-lite economy that we all yearn for.
2. Withdrawal of Agyapa: The NDC Minority will not support any collateralisation of our revenues, particularly mineral resources. The future of our country will be bleak if we continue in that regard. We cannot jeopardise the future generations of our country just for our present desires.
3. Provide for Tidal Waves Disaster: The Government should incorporate in its revised Budget adequate measures to address the issue relating to the Tidal Waves Disaster in Keta and other communities. The victims should be supported. And the Phase II of the Blekusu Coastal Protection Project must find space in the Budget.
4. Properly re-construct the wording relating to the Aker Energy:  Relating to GNPC acquisition of stake from Aker Energy and AGM Petroleum, the revised Budget should reconstruct paragraph 829 of the rejected Budget to reflect the decision of the House as captured on 6th August 2021 Votes and Proceedings of Parliament.
5. Review the Benchmark Value for Imports: Government should, in a revised Budget, reconsider paragraph 247 of the rejected Budget which sought to restore the Benchmark Values of imports by suspending the 50 percent discount on selected General Goods and the 30 percent discount on vehicles. Some concession should be given to the importers.
Read the full statement