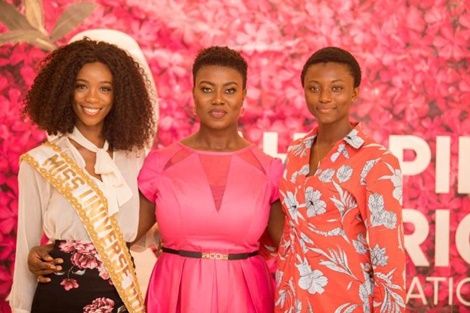 Miss Universe Ghana outdoors Aha Pink Warriors Foundation to raise awareness against breast cancer
The founder of swimwear brand, Aha Intimates and Miss Universe Ghana 2000 queen, Maame Esi Acquah has launched her foundation christened 'Aha Pink Warriors' to champion the good course of fighting against breast cancer in Ghana.
Breast cancer is the most common cancer among women worldwide. The Aha! Pink Warriors' goal is to raise awareness and celebrate breast cancer survivorship. Greater knowledge about the prevention of breast cancers through Aha! Pink Warriors will lead to earlier detection of breast cancer, which is associated with higher long-term survival rates.
On why she felt the need to established the non-governmental organization with the sole purpose of raising awareness through breast screening for women across the country starting from Accra, Maame Esi echoed these emotional words; "I lost my mum ten years ago to the disease, later, I lost two friends. I can't keep silent anymore."
Doctors walked attendees through some of the symptoms of Breast Cancer and how to detect it early before it spreads across the breast. Attendees include current Miss Universe Queen – Akpene Diata Hoggar, Miss Universe 2017 – Ruth Quarshie, rapper – Flowking Stone and others.
The team will be stationed at both Accra and West Hills Malls from October 4 to 30 to provide free education and screening.
source: peacefmonline