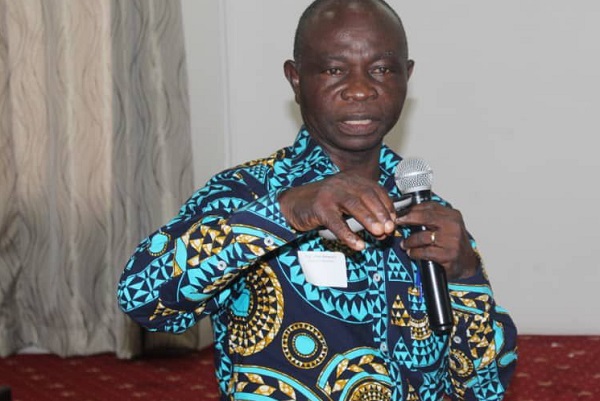 MMDAs must enforce bye-laws and regulations
The Registrar of the Engineering Council of Ghana, Mr Wise Ametefe, has expressed his disappointment with some municipal and district assemblies for their inability to demolish unauthorised structures, including churches built on watercourses.
He blamed the assemblies for the loss of lives and properties whenever there were floods, since they had the power to remove all structures and buildings on watercourses.
Mr Ametefe indicated his displeasure at a forum organised by Acreaty Ghana Limited, a human capital firm in partnership with Dredge Masters Ghana Limited and the Netherlands government in Accra.
New ideas and approaches
The forum was on the theme: "Sustainable dredging as a tool for effective city planning and flood prevention" and was attended by experts from Accra Metropolitan Assembly (AMA), Ghana Institute of Engineering, Ghana Irrigation Authority, Ministry of Works and Housing and Jospong Group of Companies among others who dialogued on new ideas and approaches to manage flood-related problems in the country.
The experts also shared practical solutions with regard to dredging as a possible tool for managing the problems flooding posed to the country.
Mr Ametefe could not understand why the assemblies failed to demolish structures and shops built illegally on watercourses and would be tolerant of people who flouted the law.
To make matters worse, he said, was the fact that some of the houses were put up without building permits which was an offence requiring that the owners be dealt with.
He said the council would under the circumstances, continue to support the government with public education on the damaging effects of floods in the country.
The forum
The Managing Partner for Acreaty Ghana Limited, Mrs Elsie Appau-Klu, said the forum was a platform for the stakeholders to discuss and examine the suitable structural measures that could mitigate the impact of floods in Accra.
"We believe we have provided a great platform for both Ghana and the Netherlands to share knowledge and information on best and workable practices aimed at managing problems caused by flooding," she said.
She expressed worry about the rising phenomenon of flood disasters, saying that the Emergency Events Database (EM-DAT) indicated that the 2015 floods in Accra resulted in economic loss to the tune of US108,200.
She said floods had a negative effect on human resource as employees took days-off and sick leave as a result of some of them getting sick or hurt and had to be hospitalised.
"We have identified challenges that affect employment relationships.
We realise that in Ghana, anytime it rains and there is flooding, a number of people, including employees, are unable to go to work.
Companies, as a result, lose a lot of work time and a lot of revenue as a result of people not going to work or delaying in getting to work or even reporting sick for which companies have to invest extra money".
Change in attitude
The Chief Director of the Ministry of Works and Housing, Mr Solomon Asoalla, said the causes of flooding were human centred.
He, therefore, called for change in attitude on the part of citizens to deal with the issue.
He said the ministry and its associated agencies and stakeholders would take steps to ensure that buildings on watercourses in Accra and other parts of the country were demolished as a means of reducing damage to lives and properties through floods.
Mr Asoalla warned estate developers who did not have permits and built on watercourses to correct their ways.
"We are henceforth going to apply the law strictly and bring those who are uncooperative to book," he said.