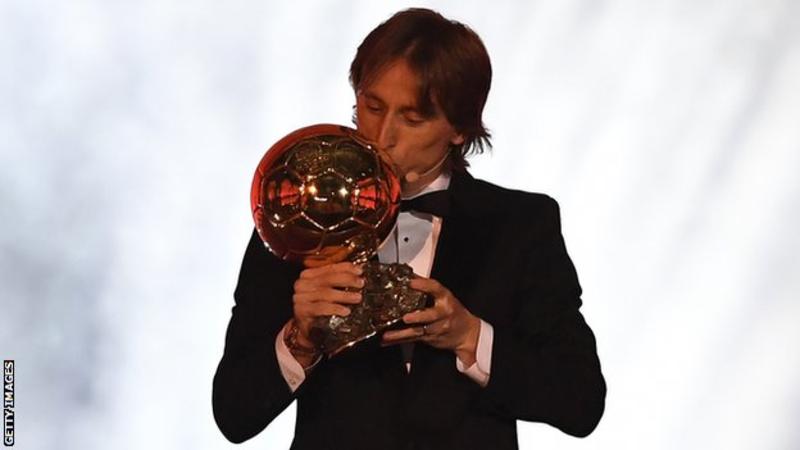 Modric ends Messi and Ronaldo's dominance of Ballon d'Or
Real Madrid and Croatia midfielder Luka Modric won the 2018 Ballon d'Or, becoming the first player other than Lionel Messi or Cristiano Ronaldo to claim the award in more than a decade.
Modric, 33, won his third successive Champions League in May before helping Croatia to a first World Cup final.
Former Brazil and AC Milan forward Kaka, in 2007, was the last player other than Messi or Ronaldo to win it.
Ronaldo, who joined Juventus from Real Madrid in the summer, came second.
Barcelona forward Messi finished fifth, with Atletico Madrid frontman Antoine Griezmann and PSG attacker Kylian Mbappe – both of whom won the World Cup with France – third and fourth respectively.
Victory caps a stellar year for Modric, who also was named the world's top male player at the Best Fifa Football Awards and received the Golden Ball award for the best player at the World Cup.
"It's an unbelievable feeling," said Modric, the first Croatian player to win the award. "It's a big pleasure to be here among all these players.
"I am still trying to realise that I have become part of a group of exceptional players to win the Ballon d'Or."
Modric described Ronaldo and Messi as "phenomenal players", adding: "To win means I did something really special on the pitch this year, that's why 2017-18 was the year for me."
The former Tottenham midfielder, who began his senior career with Dinamo Zagreb, thanked his parents for the "sacrifices" they made to allow him to become a professional.
"In my career I've realised that hard work and persistence in difficult moments sets the foundation to show your talent," he added.
"One phrase I like to say: 'The best things never come easy.' For me to achieve all this, nothing was easy."
Lyon and Norway striker Ada Hegerberg, 23, won the inaugural Women's Ballon d'Or while Mbappe, 19, became the first winner of the Kopa Trophy – awarded to the best under-21 player and selected by former Ballon d'Or winners.
The top 10
1. Luka Modric (Real Madrid and Croatia)
2. Cristiano Ronaldo (Juventus and Portugal)
3. Antoine Griezmann (Atletico Madrid and France)
4. Kylian Mbappe (Paris St-Germain and France)
5. Lionel Messi (Barcelona and Argentina)
6. Mohamed Salah (Liverpool and Egypt)
7. Raphael Varane (Real Madrid and France)
8. Eden Hazard (Chelsea and Belgium)
9. Kevin de Bruyne (Manchester City and Belgium)
10. Harry Kane (Tottenham and England)
source: BBC