MTN to pay 4 pesewas per share dividend after GH¢ 1 bn profit
MTN Ghana says it will pay shareholders a final dividend of GH¢ 0.04 per share for the 2019 financial year after investors approval at the company's AGM on August 13.
This translates into to GH¢ 0.06 per share compared to GH¢0.05 in 2018.
It also represents 73.1% of the profit after tax and a 20.0% increase in dividend per share over 2018.
This dividend will be paid to the shareholders on Friday, August 28, 2020, after the company posted a GH¢1.01 billion profit after tax.
This is subject to deduction of appropriate taxes with a 12,290,474,360 number of ordinary shares in issue at the date of declaration.
All shareholders registered in the books of Scancom PLC at the close of business on Thursday, April 30, will qualify for the final dividend.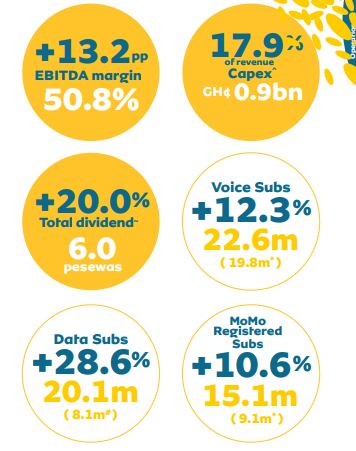 The payments will be transferred to the bank accounts or Mobile Money wallets of shareholders who make use of these facilities.
MTN Ghana share price opened the year at GH¢0.79 and closed at GH¢0.70, losing 11.4% for the year ended 31 December 2019, with a 52-week high and low of GH¢0.80 and GH¢0.67 respectively.
This was largely due to selling pressures from local retail and foreign institutional investors.
Delivering a report on the company's performance for the year under review, MTN CEO Selorm Adadevoh said the profit after tax of represents a 33.6% increase year-on-year.
Service revenue increased by 22.8% year-on-year, underpinned by growth in revenue from voice, data and Mobile Money (MoMo).
The double-digit growth in voice revenue which went up by 19.4% was driven by an increase in the number of active subscribers by 11.2%.
As new lines of revenue continued to grow much faster than the traditional business, voice revenue's contribution to service revenue decreased from 46.3% to 45.0%.
With the onset of the COVID-19, health experts have advised social distancing to cut physical contact as a measure of halting the contagion.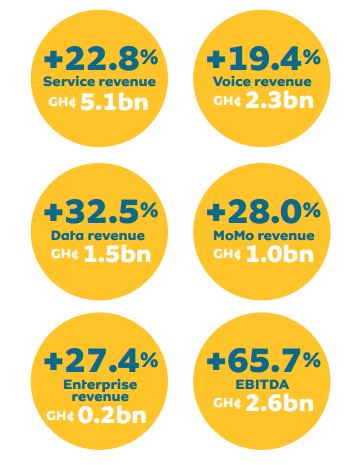 Phone calls and internet use have soared not only in Ghana but across the globe, with government institutions, businesses, educational institutions and the entertainment industry, among others, switching to online platforms for operations.
This has driven data revenue growth by 32.5% year-on-year with an increase in active data users by 26.6%.
Growth in the number of smartphones on the network has also increased by 18.5%, as well as data usage by 85.9% to 256,301 Terabyte.
Data revenue's contribution to service revenue expanded from 26.3% to 28.4%.
Mobile Money revenue also grew strongly by 28.0% year-on-year in the year of the 10th anniversary of MoMo in Ghana.
"MoMo growth was attributable to an increase in the number of active subscribers by 8.9%, increased transactional activity of person-to-person (P2P) transactions as
well as good growth in more advanced services – such as retail merchant payments and international remittances. MoMo revenue's contribution to service revenue expanded from 17.9% to 18.6%," Mr Adadevoh explained.
In his remarks, Board Chair Ishmael Yamson was hopeful that the firm will deliver greater shareholder value growth through increased revenue generation and cost
management.
"I firmly believe that we are on the right path and that the changes that we have seen in the telecoms industry will lead to sustainable growth in the future for all our stakeholders," he concluded.