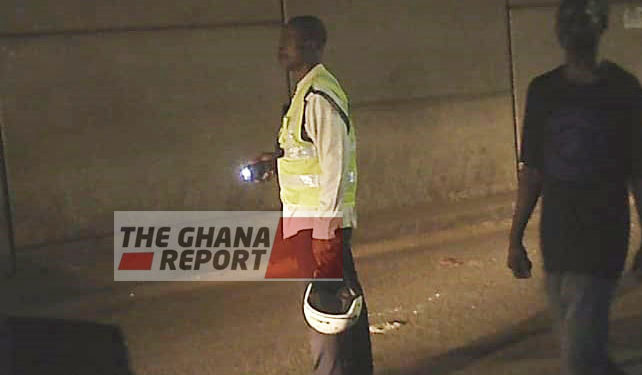 MTTD officer exposed by The Ghana Report transferred
The Police officer who was caught on camera extorting monies from drivers at the Kwame Nkrumah interchange area has been transferred following a report by The Ghana Report.
His transfer came barely two weeks after the publication which described in detail, his modus operandi, after an undercover piece which spanned almost two years.
The Police administration upon seeing the publication instituted punitive measures against the allegedly corrupt police officer, our sources tell us.
News of his transfer has been greeted with joy and satisfaction by a number of drivers who earlier spoke to us in our investigative piece.
"We now work comfortably without intimidation and make sufficient sales," one said while another wondered why "Alhaji" had been transferred.
"We learnt he has been transferred but we do not know what has necessitated that."
Many had earlier reported the officer to his superiors at the Nima Divisional Police command but their complaints were disregarded because they did not have empirical evidence to substantiate their allegations.
But with The Ghana Report's incontrovertible evidence, the police quickly moved in and axed Alhaji.
Co-chair of the citizen's movement against corruption, Edem Senanu, said police officers who bring the name of the service into disrepute deserve a sack as their practices paints a devastating picture to foreigners in the country.
Several corruption perception surveys conducted by the Ghana Integrity Initiative, the local chapter of transparency international projects the police service as the most corrupt institution in Ghana.
This disturbing perception can however be corrected with diligent reformation works by the entire police service.
Read more on the "illegal" activities of the MTTD officer here:
MTTD officer exposed; caught on camera enforcing 'cash collection', not law