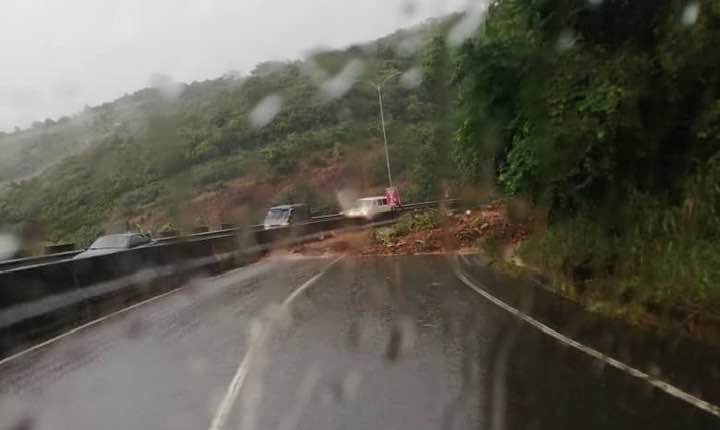 Mudslide on Aburi – Accra road after Friday rains
Friday afternoon's downpour in the Eastern region has caused a mudslide on the Ayi Mensah – Peduase stretch of the Aburi – Accra road.
There have been numerous concerns raised about the safety of the landscape.
Speaking in an interview monitored by The Ghana Report, Public relations Officer of National Disaster Management organization, George Ayisi said a team has been dispatched to the scene to clear the debris.
According to him, the affected part of the road has been blocked, a situation we understand has caused discomfort to road users.
"our men are on site clearing the debris. The left side of the road which is close to the hill has been blocked and so those going up the mountain should be careful. The police and NADMO officials are there working. The police are there directing traffic so let's be careful and cautious when using that stretch and let's also respect the directive of the police" Mr Ayisi said.
He also revealed no casualty has been recorded yet.
"there's no vehicular damage or any other casualty yet. If there were, we would've known because our men are there. They have to finish clearing the debris for us to ascertain if any damage was caused to the road but for now, we can't tell".
Mr Ayisi says he is hopeful the situation will be completely resolved by Saturday morning to allow free flow of traffic on the stretch.