Mueller investigation: No jail time sought for Trump ex-adviser Michael Flynn
The special counsel investigating alleged Russian collusion in the 2016 US election will not be pursuing a jail sentence for former national security adviser Michael Flynn.
Mr Flynn has admitted lying to the FBI.
But in a memo, Robert Mueller said Mr Flynn had provided "first-hand" details about links between the Trump election team and Russian officials.
The heavily redacted memo hints at future revelations that could trouble President Donald Trump.
President Trump has called the investigation a witch hunt and denies there was any collusion between his team and Russian officials to try to secure his election victory.
Why has the memo been released?
Mr Mueller's office released the memo as guidance to the judge who will sentence Michael Flynn, the only member of the Trump administration so far to plead guilty as a result of the collusion investigation.
He is due to be sentenced in the US District Court for the District of Columbia on 18 December.
Mr Flynn has pleaded guilty to one count of making materially false statements to the FBI.
He admitted that he discussed lifting US sanctions on Russia with the Russian ambassador to Washington before Mr Trump took office, and that he lied to the US vice-president about that conversation.
What is in the memo?
It says Mr Flynn has provided assistance in multiple investigations and has also given information on co-ordination between the Russian government and the Trump campaign.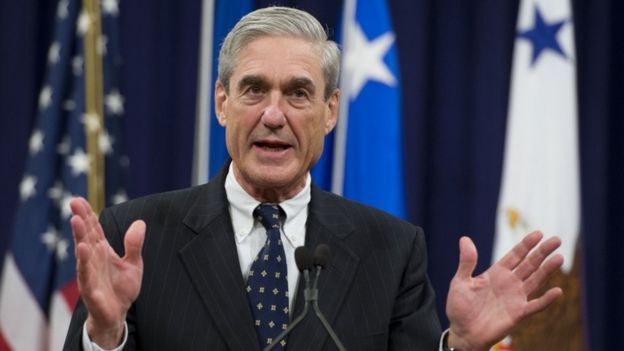 Consequently, it says: "A sentence at the low end of the guideline range – including a sentence that does not impose a term of incarceration – is appropriate and warranted."
The memo points to Mr Flynn's "exemplary" military and public service and that he "deserves credit for accepting responsibility in a timely fashion and substantially assisting the government".
It had been thought details of Russian collusion might be included in the memo but the document says that, due to the "sensitive information about ongoing investigations", certain aspects have been sealed.
An addendum to the memo on Mr Flynn's assistance is heavily redacted.
But it does say Mr Flynn provided "firsthand information about the content and context of interactions between the transition team and Russian government officials" – clearly part of the ongoing investigation.
And then there is this intriguing element. In one section there is the simple sentence "the defendant has provided substantial assistance in a criminal investigation" but everything below it is blacked out.
source: BBC