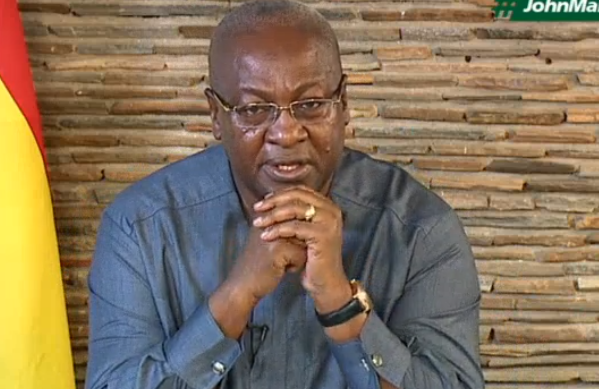 'My hospitals are wasting away'- Mahama criticises Akufo-Addo over ambulances
NDC Presidential candidate John Mahama has indicated government procurement of more than 300 ambulances amounts to putting the cart before the horse.
He said there are several hospitals built by his government which has been left to rot.
'Where are the ambulances going to?' he jabbed during a Facebook live session Friday.
President Akufo-Addo and a host of ministers and top government officials assembled at the Independence Square to officially commission ambulances to be sent to each of the 275 constituencies.
It was in fulfillment of a 2016 campaign promise.
Targeting the fanfare associated with the commissioning, Mahama said his government also procured some ambulances for Ghanaians but it was on the quiet.
Mahama who lost power in 2016 said his government was more focused on building hospitals, some of which have been abandoned.
He listed the University of Ghana Medical Center, the Upper West regional hospital, the Bank hospital, International Maritime hospital.
He also listed hospitals in Fomena, Kumawu, Abetifi, Bekwai, Tepa, Bolga as critical health infrastructure that has been left idle.
Five things the NDC has called a misplaced priority
Mahama in December 2018 called the medical drone delivery services initiated as a misplaced priority.  "Instead of prioritising the needs of the health sector, the NPP government chose to acquire drones to fly blood."
A former Deputy Communications Minister, Felix Kwakye Ofosu has said the introduction of the new school uniforms by the New Patriotic Party(NPP) administration is a misplaced priority.
The NDC has called plans by the Electoral Commission to compile a new register, needless.
The NDC also described plans to build a new 450-chamber for parliament a misplaced priority.
Mahama has described as the creation of ministries and portfolios like Sanitation, Monitoring and Evaluation, Procurement as "useless"
The NDC has also faulted the Bank of Ghana for issuing higher denomination notes which it says was needless.
The NDC has also said the Vigilantism Bill introduced by the NPP was "unnecessary and a deliberate diversion to allow the governing New Patriotic Party (NPP) to continue to build its militia infrastructure ahead of the 2020 elections."
Calling policies or programs a misplaced priority is a staple argument for both the NPP and NDC.
While in opposition, the Central regional communications of the New Patriotic Party labeled a Kojokrom railway project a misplaced priority explaining it should have been extended to cover important economic zones like Tarkwa.
NPP described the Mahama government's decision to sign several power contracts as needless because it committed the government to pay for power it did not need.
While in opposition the NPP also described President Mahama's several trips abroad wasteful drain on the taxpayer. On this accusation both parties have repeated this to each other any time one is in government.
The NPP Northern Regional Communications Directorate described President John Dramani Mahama's just ended "Accounting to the people tour" as a waste of the taxpayers' money.