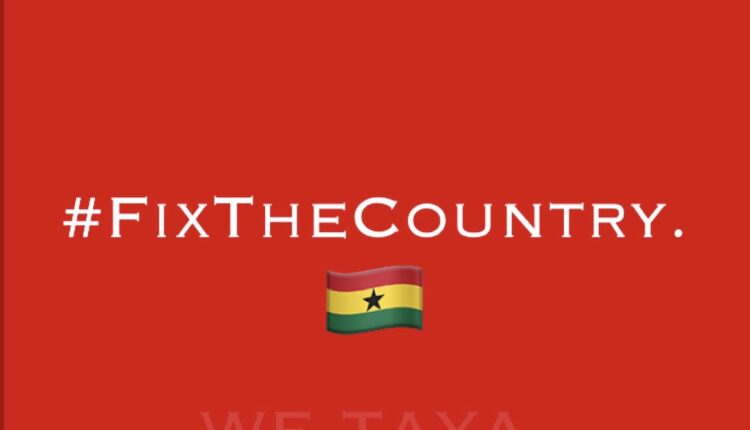 #NameAndShame tops Twitter trends to expose politicians
The #Fixthecountrynow online protest has taken a different turn as social media users name and shame non-performing MPs and government appointees.
#NameAndShame, an offshoot of #Fixthecountrynow and #FixGhanaNow, had over 80,000 Tweets as of Friday afternoon.
A social media influencer, KalyJay, announced the hashtag Thursday night after pro-government social media users reported the earlier hashtags to be taken down.
The protesters hold the view that President Akufo-Addo and his appointees have failed in addressing the needs of Ghanaians.
Several Ghanaians poured out on Twitter to vent their frustrations after the announcement of price hikes in fuel and telecommunication services.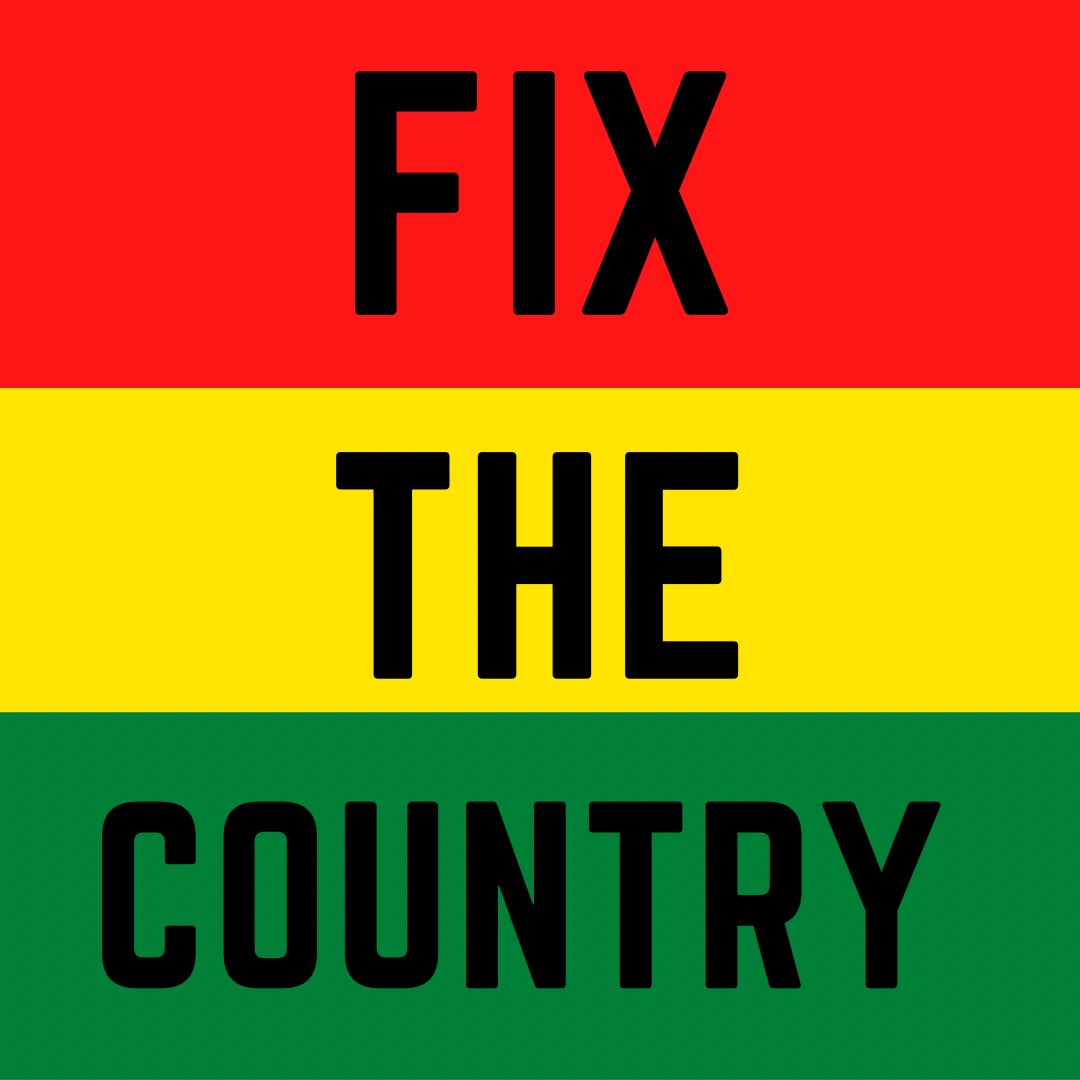 The price increase is happening at a time of frequent power cuts with an expected power rationing in the coming days.
Other concerns highlighted by the angry social media users include high taxes, unemployment, dilapidated health system, high accommodation rate, poor road networks, and general hardships.
The group planned a demonstration on May 9, 2021, but was subsequently injuncted by an Accra High Court.
The judge said until the restriction on public gathering has been lifted, nobody could hold any demonstration.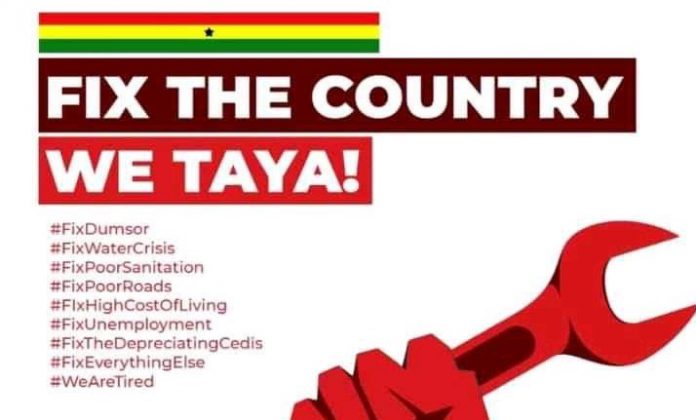 Unrelenting by the ban, the group decided to name and shame legislators and officials of the ruling New Patriotic Party (NPP) government who have failed to fulfil their promises to their constituents.
Why May 9th
The group chose May 9th because "it captures the restless spirit of over 126 Ghanaians who lost their lives in the May 9th Accra Sports Stadium Disaster due to institutionalized incompetence and disregard for Ghanaian lives".
Additionally,  the protest is aimed at commemorating the 26th Anniversary of the Kume Preko Demonstration of May 11th, 1995.
"Thus, the event draws inspiration from the undying culture of protest and dissent that has forged our democracy, and which Kume Preko has become a synonym for in our collective memory.
Kume Preko was the name given to an anti-government demonstration that occurred in Ghana in 1995, led by Charles Wereko Brobbey.
The protest took place in opposition to the Value Added Tax (VAT) initiative, which was introduced under the Jerry John Rawlings administration.
It is said to have been one of the biggest protests ever organized in the country, with an estimated 100,000 people participating.
The demonstration was initially billed as a peaceful protest but quickly became violent when unidentified assailants shot live bullets into the crowd resulting in the deaths of a few protestors.
See post below:
#NameAndShame#FixGhanaNow
OB Amoah
Mp for Akuapem South
Deputy Minister for local Goverment and Rural development pic.twitter.com/ul7Z3XKCTh

— Ofb McKenzie ❄ (@merkyofb) May 7, 2021
Eastern region Ofoase/Ayirebi constituency.@konkrumah is their Mp. #NameAndShame #FixTheCountryGhana pic.twitter.com/OOIQD9c5fD

— Dr. Prof. Ayigbe Borla Bird PHD (@Mr_Ceyram) May 7, 2021
The Atta Mills Library in Cape Coast has still not been opened to the public after years of completion.#nameandshame pic.twitter.com/UldYTM9NXz

— Manokekame (@abenamagis) May 7, 2021
My MP made many promises and he's yet to do anything in our contituency even Susu box koraa we are yet to get some. My MP name is Lawyer Joe Osei Owusu . Amansie East constituency #NameAndShame pic.twitter.com/V03tjOroR2

— PRINCE DAVID🕊✈️ (@princedavid_gh) May 7, 2021
#NameAndShame
A JHS classroom in Bilinsa in Builds North constituency in the Upper East Region. Hon. James Agalga. pic.twitter.com/I7expCfNk1

— YO TƆHWƐ WOSOP? (@Tohw3_0) May 7, 2021
Ayawaso East constituency Road😭😭😭 Ohh God Nima hmmm Our Mp only comes to our Constituency when is elections becos he knows thats his party strongroad so he will win hmm😭😭😭 This road go fi play oware sef #nameandshame pic.twitter.com/pTKZA3MvqS

— Brah Benefit (@brabenefit) May 7, 2021
14 years abandoned Krofrom MARKET, Kumasi

If this project is completed it could absorb many traders from the street and help in decongesting the CBD of the Ashanti regional capital.

Regional Minister, the MP and MCE for the area must save the project#NameAndShame #FixGhanaNow pic.twitter.com/p4UxtRVctY

— Maiestas Ⓜ️ (Danny Bediako) (@Ebenezer_Peegah) May 7, 2021
This is my MP, Frank Annoh Dompreh. He's been in office for 3 terms and has not even completed just a single toilet facility in the Nsawam-Adoagyiri constituency. Bra MP, Ayeekoo. Where is the $1M allocated for the constituency? I can't wait to meet you one on one #nameandshame pic.twitter.com/1TMV9Q2eOr

— #FixTheCountryGhana (@iam_danny18) May 7, 2021
De road. The Mp(Bia West)🥺🥺🥺 #nameandshame pic.twitter.com/ig1KKtELi3

— #NoPressure🕊 (@AbrantieJenesy2) May 7, 2021
Dr kwaku Afriyie he brought the material to fix it during the election time.after he won p3 den he gey ein eyes. The bridge has been there for like 25years still they no fix am #NameAndShame pic.twitter.com/2dltjDgC1X

— Heavy Hitta!! (@AddaeBismark16) May 7, 2021
The court said No Demonstration And I'll Go With That. That Does Not Mean We Still Can't Complain. Online Demonstration Goes On. We Will Do Everything Online. #NameAndShame

— KALYJAY 👻 (@gyaigyimii) May 7, 2021
#FixGhanaNow
Amenfi west is the location
Hon Eric Afful is the mp
Bad road is his greatest accievement #nameandshame pic.twitter.com/I3eb3WUxIT

— Alfred (@Doubkilwa) May 7, 2021
The Road The Mp-Adwoa sarfo #NameAndShame pic.twitter.com/i56irwdEJp

— Afua (@xx_tray) May 7, 2021
This is Techiman where both NPP and NDC were fighting and it's fighting to win the majority look at our roads #NameAndShame pic.twitter.com/Yn9uMRox6P

— Pharell Gh (@PharellSarpong) May 7, 2021
The constituents The mp (Mr Kwasi Bedzra#nameandshame pic.twitter.com/MUjDFkchAk

— King Geoffery 👑🍥 (@Dzidzorvi1) May 7, 2021
The Mp Ein Roads #nameandshame pic.twitter.com/i3ZoStIyPO

— King Hyde (@kwasia_bi) May 7, 2021
The Mp Ein Roads #nameandshame pic.twitter.com/i3ZoStIyPO

— King Hyde (@kwasia_bi) May 7, 2021
Bosomtwe constituency main road leading to a tourist attraction site, Mp hon. Osei Adutwim #FixGhanaNow #Nameandshame pic.twitter.com/wWpe9ctT8O

— nICE mAN (@nICEmAM6) May 7, 2021
#nameandshame #FixTheCountryGhana
Hon Lydia Seyram Alhassan
MP for Ayawaso west Wuogon
Deputy Majority Chief Whip pic.twitter.com/pax79ZpCBK

— Don (@ChuckMickson) May 7, 2021
#nameandshame #FixTheCountryGhana
Hon Lydia Seyram Alhassan
MP for Ayawaso west Wuogon
Deputy Majority Chief Whip pic.twitter.com/pax79ZpCBK

— Don (@ChuckMickson) May 7, 2021
We voted for the cleanest city in Africa and this is what we got served…smh😵 Something has to done and its should be now!!! #FixTheCountryNow #nameandshame @HawaKoomson your municipality report⚠️⚠️⚠️ pic.twitter.com/WgtZudclpu

— STREETBOY KANTÈ❤⚡⛄🇬🇭 (@RicchCliff_) May 7, 2021
The Flood The MP#NameandShame : Hon Kwabena Okyere Darko Mensah #FixGhanaNow #FixingTheCountryGhana pic.twitter.com/2kRfoTs24s

— taadiboy (@taadibanyinbagh) May 7, 2021
#nameandshame
Community Center Project being abandoned from 2016 up to date in Abuesi in the Shama Constituency in Shama District..Our MP Samuel Ericsson Abakah pic.twitter.com/yNWRup4TVe

— DayDay (@QwameDayDay) May 7, 2021