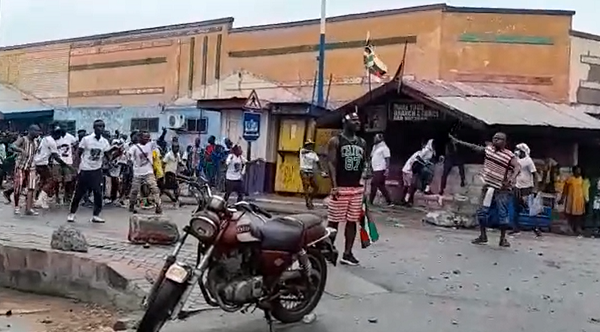 NDC and NPP trade accusations over Odododiodoo clashes
The ruling New Patriotic Party and the opposition National Democratic Congress have traded counter accusations over clashes between their supporters in the Odododiodoo constituency of the Greater Accra Region over the weekend.
Videos on social media showed a section of the youth of Odododiodoo suspected to belong to the two major parties, throwing bottles, stones and other projectiles at each other on the Atta Mills Highway. This later resulted in several people obtaining various degrees of injuries.
The NPP Parliamentary Candidate of the Odododiodoo constituency, Nii Lante Bannerman, in an interaction with the press on the matter warned that the party will not hesitate to face squarely, the NDC, should they make further threatening advances.
He accused the party hierarchy in the constituency of nursing an ambition to cause mayhem and disunity among the constituents within the constituency.
On his part, Member of Parliament for the Kumbungu constituency, Ras Mubarak is urging the clergy, media, Csos and all other stakeholders to advocate for peace and calm in the area.
The legislator blamed the Akufo Addo led government for inciting its party faithfuls to cause confusion in the constituency ahead of the 2020 general elections.
Member of Parliament for the Odododiodoo constituency, Edwin Nii Lante Vanderpuye also lay the blame squarely on the door step of the Jamestown Police who he labelled as incompetent.
According to the MP, the police have failed to act on numerous violent activities perpetrated by some youth belonging to the governing New Patriotic Party (NPP) in the community.