NDC laughs off NPP plan to regain Assin North seat
The NDC has laughed off attempts by the NPP to regain the Assin North seat by challenging the eligibility of the winner, James Quayson.
The opposition party says their candidate, Mr. Quayson is a Ghanaian who renounced his Canadian citizenship prior to filing his nomination at the Electoral Commission.
The NPP through a Legal practitioner, Gary Nimako, has asked the Ghana Immigration Service to confirm if indeed the NDC MP-elect had renounced his Canadian citizenship before the December 7 parliamentary elections.
If it is confirmed he did not, he would be deemed to be ineligible to contest as Ghana's law does not allow dual citizens to contest in national elections.
"We are instructed to do an inquiry on the citizenship status of the said James Gyakye Quayson to ascertain whether at the time of filing his nomination at the Electoral Commission he had renounced his Canadian citizenship and if so documentary evidence to confirm that….", a letter from Marfo & Associates addressed to the Foreign Ministry reads.
But the NDC in a reaction said Mr. Quayson is "a full citizen of Ghana who owes no allegiance whatsoever to any other country. He is a Ghanaian in law and in fact and qualifies to be a Member of Parliament according to the laws of Ghana."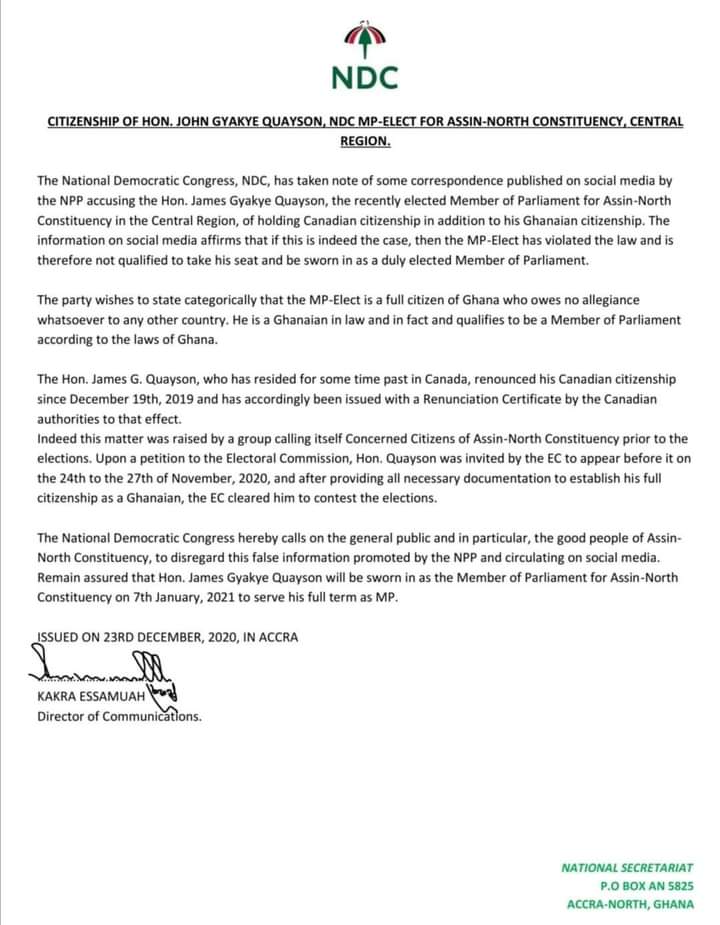 The political hunt for post-election seats
The results of this search could be game-changing for the NPP and NDC after the 2020 parliamentary elections produced a hung parliament.
With 137 MPs apiece, the NPP and NDC are sniffing around any results that could be successfully challenged which would then break the historic tie.
Assin North is predominantly an NPP seat with the party winning it four times out of seven contests.
The NDC won it in 2012, lost it in 2016, and reclaimed it in 2020, snatching it from the incumbent, Abena Durowaa Mensah.

Photo: Abena Durowaa Mensah




The resort to court has become even more crucial as the NPP has no clear majority in parliament. After the December 7 parliamentary elections, the NPP and NDC are tied to 137 seats apiece with the only remaining set held by an NPP sympathetic independent candidate.
The NDC used the courts to help annex Sene West where a re-collation of a ballot box handed the NDC candidate, Kwame Twumasi Ampofo, a narrow victory by 16 votes.
The NPP in a presser on Wednesday, December,23,2020 said it was preparing to challenge seven NDC parliamentary victories in court.