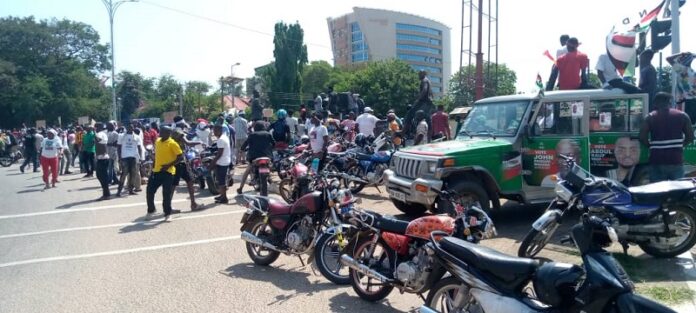 NDC urges supporters to remain 'calm and resolute' ahead of election petition judgement
The opposition National Democratic Congress (NDC) has urged party faithful to remain calm as the Supreme Court takes a decision on the petition filed by its 2020 presidential candidate, John Dramani Mahama. 
The advice comes after the party's National Executive Committee held an emergency meeting on Monday.
The committee expressed faith that the apex court will uphold the will of the people and ensure the 2020 election results announced by the EC Chairperson Jean Mensa is overturned, in Mahama's favour.
A statement issued by the NDC General Secretary Johnson Asiedu Nketia at the end of the emergency NEC meeting on Monday reads:
"Finally, as Ghanaians await the verdict of the Supreme Court on the election petition, NEC urges all NDC members and supporters to remain calm and resolute.
"It is the prayer of NEC that the Supreme Court will uphold and promote probity, accountability, and transparency, and give effect to the will of the people expressed on December 7, 2020, in its judgement on the matter."
That notwithstanding, the party said, "it will stop at nothing to rid the Jean Mensa-led commission of its partisan biases and prejudices, and ensure transparency and fairness in national elections".
The apex court has set March 4 to make a determination of the petition challenging the declaration of the NPP presidential candidate Nana Akufo-Addo as winner of the 2020 December 7 polls.
Among other things, the petition filed by the NDC Flagbearer wants the apex court to order a rerun of the elections held in December last year.
Reliefs sought by Mr. Mahama
(a) A declaration that Mrs. Jean Adukwei Mensa, Chairperson of first respondent and the Returning Officer for the Presidential Elections held on December 7, 2020 was in breach of Article 63(3) of the 1992 Constitution in the declaration she made on December 9, 2020, in respect of the Presidential Election that was held on December 7, 2020
(b) A declaration that based on the data contained in the declaration made by Mrs. Jean Adukwei Mensa, Chairperson of first respondent and the Returning Officer for the Presidential Elections held on December 7, 2020, no candidate satisfied the requirement of Article 63(3) of the 1992 Constitution to be declared President-elect
(c) A declaration that the purported declaration made on December 9, 2020 'of the results of the Presidential Election by Mrs. Jean Adukwei Mensa, Chairperson of first Respondent and the Returning Officer for the Presidential Elections held on December 7, 2020, is unconstitutional, null and void and of no effect whatsoever
(d) An order annulling the Declaration of President-Elect Instrument, 2020 (C.1. 135) dated December 9, 2020, issued under the hand of Mrs. Jean Adukwei Mensa, Chairperson of first respondent and the Returning Officer for the Presidential Elections held December 7, 2020, and gazetted on December 10, 2020
(e) An order of injunction restraining the second respondent from holding himself out as President-elect
f) An order of mandatory injunction directing the first respondent to proceed to conduct a second election with Petitioner and second respondent as the candidates as required under Articles 63(4) and (5) of the 1992 Constitution