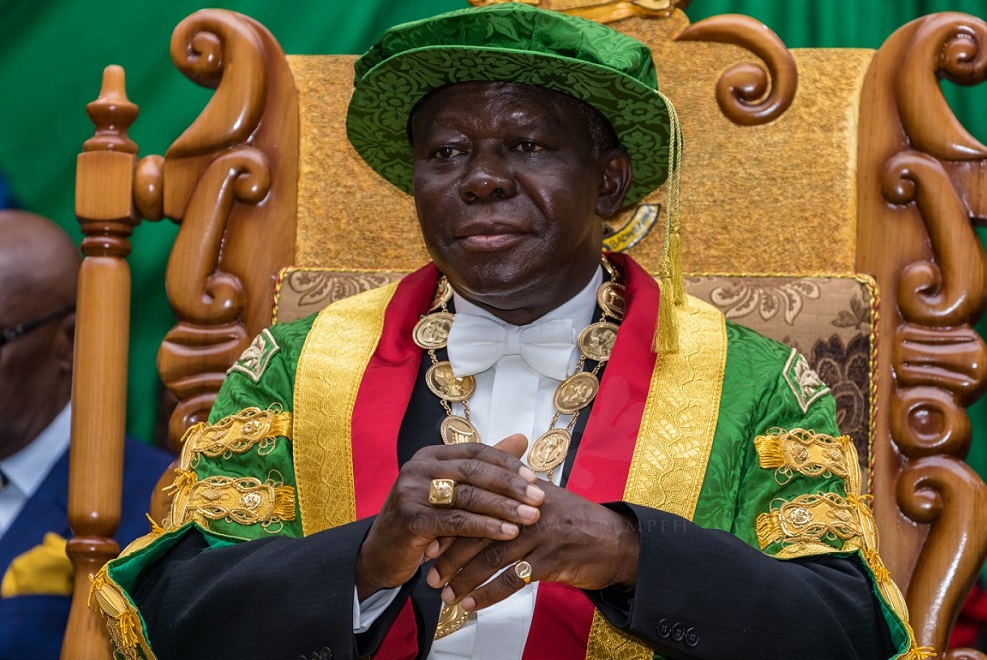 New members joining 'old' KNUST Council to be sworn in today
New members who are joining the Governing Council of the Kwame Nkrumah University of Science and Technology (KNUST) will be sworn into office today, Graphic Online has gathered.
The about six new members will be joining the remaining nine members, including representatives from the unions who will however not be sworn in since they are already members of the council, and therefore there is no need swearing them in again.
This means that the same representatives from the University Teachers Association of Ghana (UTAG), Prof E.K. Fokuo, the Tertiary Education Workers Union (TEWU), Mr Charles Arthur and the Students Representative Council (SRC), Kevin Sah will be on the governing council.
The University Council is made of 15 members, four of which are government representatives. A representative from the government side chairs the council.
Following the impasse and the subsequent announcement of the dissolution of the council with the appointment of an Interim Council (IMC), which was opposed by the unions and the Chancellor, Otumfuo Osei Tutu II, government has decided to change its four representatives.
The representatives from the National Council for Tertiary Education (NCTE), Dr E. Baffoe Bonnie and the Conference of Heads of Assisted Senior High Schools (CHASS), Alhaji Y.A.B. Abbubakar have also been changed.
The university has been closed since Monday October 22, 2018 following a violent demonstration by the students.
The Ashanti Regional Security Council (REGSEC), which took the decision with the university authorities for the closure, also imposed a dusk-to-dawn curfew on the university campus.
The demonstration by the students against the 'tyrannical' style of the university administration, turned violent, and led to massive destruction of public and individual properties.
The demonstration was intended to express grave concern over the use of force by the Vice-Chancellor, Prof. Kwasi Obiri Danso, to cow them into submission.
Before the demonstration, 11 students of the University Hall (Katanga) who had participated in the usual entertainment programme (otherwise called moral session) of the hall were allegedly brutalised and arrested by the university's internal security men and handed over to the KNUST Police Station, where they were detained.
The Governing Council immediately after the swearing-in ceremony today will meet and decide on a re-opening date for the university for academic work to continue.
The old Council
The four (4) government representatives were
Prof Emeritus Kwame Sarpong, Chairman Govt rep
Dr O.K. Kankam Govt rep
Dr C.K. Boadu Govt rep
Mrs Abena Antwi Govt rep
Others (11)
Vice Chancellor – Prof Kwasi Obiri Danso – Vice Chancellor
Convocation (Professorial) – Prof J. Ayarkwa
Convocation (Non-professorial) – Dr I. Dadzie
NCTE (National Council for Tertiary Education) -Dr E. Baffoe Bonnie
UTAG (University Teachers Association of Ghana) – Prof E.K. Fokuo
Alumni – Ms Eunice Akosua Amoako
CHASS – Conference of Heads of Assisted Senior High Schools – Alhaji Y.A.B. Abbubakar
TEWU – Tertiary and Education Workers Union – Mr Charles Arthur
GRASSAG – Graduate Students Association of Ghana – Mr A. Poku-Adu
SRC – Students Representative Council – Kevin Sah
Registrar [Secretary to the Council] – A.K. Boateng
source: graphic online