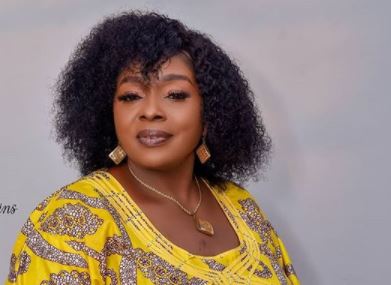 Nigerian actress wants Trump to win 'for the sake of Christianity
Veteran Nigerian actress, Rita Edochie says she wants US President Donald Trump re-elected because it would help the cause of Christianity.
"…if not for anything father, for the sake of Christians all over the world,"  she wrote on her Instagram page.
Americans went to the polls on November 3, 2020, to elect either President Donald Trump or former Vice president Joe Biden.
Results creeping in suggestion, Biden is in the lead. But Trump insisted he had won tremendously.
Why some evangelicals like Trump
The US election has seen evangelicals once again play a significant role in the Trump campaign.
Some evangelical leaders say that Trump has delivered on views that bed in with evangelicals.
These include moving the US embassy from Tel Aviv to the holy city of Jerusalem; issuing orders limiting government funding for groups that provide abortions; securing the release of Andrew Brunson, a US pastor detained in Turkey.
He also appointed a roster of conservative judges to both the lower courts and the Supreme Court, where President Trump has already filled two vacancies and is now filled a third following the death last month of liberal justice Ruth Bader Ginsburg.
"You can argue that the Trump administration is the first administration in American history to do the bidding of the religious right," says Randall Balmer, a professor of religion at Dartmouth College and author of Evangelicalism in America.

Photo: The controversial pastor and televangelist Paula White served as Trump's spiritual adviser and now advises the White House on faith issues © Getty Images
He noted that many evangelical leaders were disappointed by previous Republican presidents such as Ronald Reagan, George HW Bush and George W Bush. While they courted the evangelical vote during their campaigns, they largely kept faith leaders at arm's length during their administrations and, in some leaders' view, did not do enough to push back against the pro-choice or gay rights movements.
The evangelical movement became a political powerhouse at the end of the 1970s, when fundamentalist preachers, most notably the televangelist Jerry Falwell, galvanised Christian conservatives to come to the polls.
The landmark 1973 Roe vs Wade Supreme Court decision, which legalised abortion, had grown into one of the main motives. In 1980, that voting bloc propelled Ronald Reagan, a divorced Hollywood film star, to the White House over Jimmy Carter, a born-again Christian, who had nevertheless disappointed evangelicals with some of his policies.
Earlier, results from 34 out of 50 US States showed Biden was leading with 205 electoral college votes against  Trump's 136 votes.
Each candidate needs 270 electoral college votes to win the election.