Ofori-Atta wants to spend GH¢27.4bn in first quarter of 2021
Finance Minister Ken Ofori-Atta
Finance Minister, Ken Ofori-Atta has requested parliamentary approval for the expenditure of approximately GH¢ 27.4 billion for the first quarter of 2021.
Mr Ofori-Atta asked for the allocation to be made from GH¢27,434,180,520 from the consolidated fund for financial payments "to successfully carry out the business of government" from January to March 2021.
The total amount is to cover government operations, such as compensation of employees, ex gratia awards, interest and amortization payments, transfers to statutory funds, critical programmes and goods and services, and Capex allocations of Ministries, Departments and Agencies (MDAs).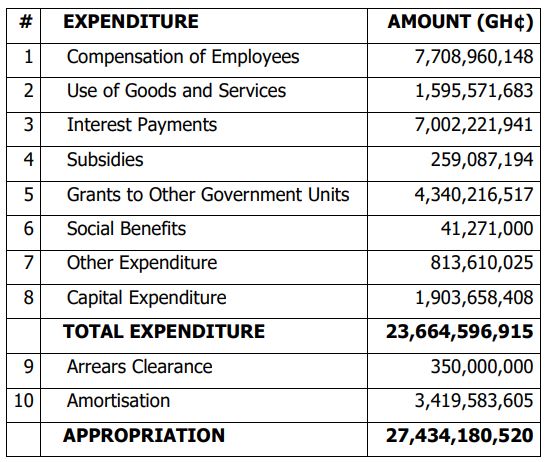 The figure is a quarter of the GH¢ 109.9billion which Parliament approved for the entire 2020 year after an upward review in the supplementary budget in July 2020.
Unplanned COVID-19 expenditures forced the government to go beyond the GH¢ 98 billion it had requested in November 2019.
The advanced budget termed Expenditure in Advance of Appropriation was presented to Parliament on Wednesday, October 20, 2020.
Additionally, the Finance Ministry is also requesting "approval
for the issuance of sovereign bonds of US$3 billion with the
option to increase it to US$5 billion should market conditions
prove favourable".
Out of the amount to be raised, US$1.5 billion will be used to support the
2021 budget and US$3.5 billion for liability management.
The usual norm is the presentation of the following year's budget to be presented in November.
Still, the 2020 elections on December 7 means early budget preparation to prevent disruption by the election activities.
Part of the funds is expected to be used for the GH¢100- billion-Coronavirus Alleviation and Revitalisation of Enterprises Support (CARES) programme, to revitalise and transform the Ghanaian economy.
The three-and-half year comprehensive and audacious programme, also known as Ghana Cares or 'Obaatanpa', seeks to stabilise and revitalise the Ghanaian businesses ravaged by the COVID-19 pandemic.
It is expected that 70 per cent of the funds for implementation would come from the private sector whilst 30 per cent from the public sector.