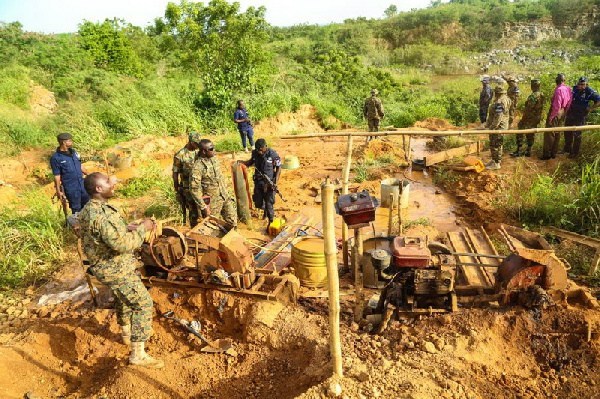 Operation Vanguard soldiers to return to the barracks after fighting illegal miners since 2017
The government has dissolved the military component of the task force set up in July 2017 to clamp down on illegal mining.
The withdrawal is expected to be complete by March 2020.
Accra-based radio Joy FM reported that the government was re-strategising as the fight nears its third anniversary with a growing public belief that the fight has failed.
Luv FM's reporter, Erastus Asare Donkor, indicated the soldiers stationed at Tarkwa mining zone have begun packing out.
"As we speak they are preparing to file out tomorrow morning" he reported. By March, the Ashanti regional contingent would have also left, he said. "They are leaving the fight to the police administration," he added.
JoyNews also reported that Defence Ministry intends to set up 'a Quick Reaction Force' which will be called in by the police as and when they are needed.
Accra-based Citi FM also reported that the government plans to employ mining guards and 144 drone pilots to monitor the approved miners.
It also said that so far over 1,000 small scale miners have been vetted and would go back to mine under environmentally friendly laws.
The new development comes after the taskforce's operations have been marred by controversy amid allegations of corruption and the use of excessive force.
In 2018 for example, three soldiers of the task force were investigated for allegedly trying to exhort money from illegal miners in the Wassa Akropong area in the Western Region.
Some ministers have also been accused of engaging in some illegalities and conniving with the task force to seize equipment belonging to illegal miners.
Operation Vanguard came into existence after the government placed the ban on all forms of small scale illegal mining.
It was a 400-strong force that patrolled Ghana's mining zones in the Western, Eastern, Central and Ashanti regions.
Also, read other related stories
Operation Vanguard arrests five NPP,NDC supporters; investigates MPs behind illegal mining
Operation Vanguard arrests 15 Chinese linked to illegal mining