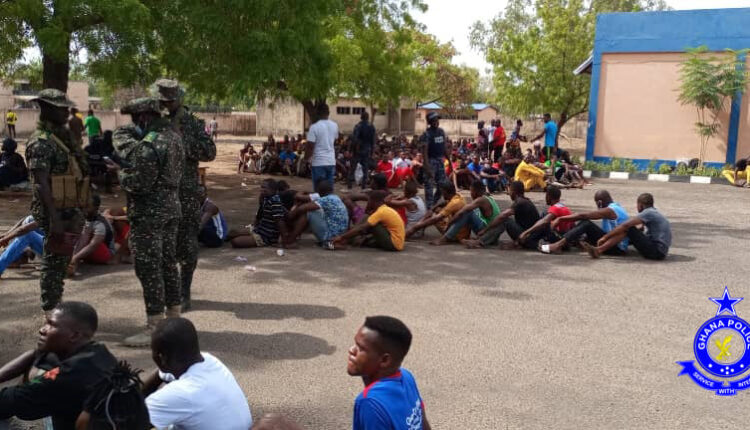 Over 500 illegal immigrants arrested in Bolgatanga
A total of 507 illegal immigrants have been arrested in the Bolgatanga Municipality in the Upper East Region.
They are made up of 494 Nigerians, including six females and 13 Burkinabes.
A joint team made up of police officers, immigration officers, and officers from the National Security carried out the operation.
The police, in a statement, said intelligence gathered showed that these immigrants entered the country from April 2020 through unapproved routes in the northern part of Ghana.
It further explained that the operation followed a series of complaints raised by residents of the Upper East Region on the influx of foreign nationals who engaged in criminal activities and other fraud-related crimes (scams) such as Q'Net in the area.
"The illegal immigrants have been processed for repatriation. Meanwhile, profiles of the Nigerians among them are being shared with security counterparts in the Republic of Nigeria to ascertain whether they were part of the announced jailed breakers," the police statement read.
It has, however, cautioned the public, especially landlords, against accommodating persons whose identities and residential, legal statuses are unknown.
It further appeals to the public to give the police information about suspected criminals and criminal activities to their attention.
Ghana continues to deal with issues of immigrants who enter the country through unapproved routes.
On May 17, 2020, the Ghana Immigration Service arrested 1107 foreign nationals in the Bono Region who entered the country illegally following the closure of borders.
The move was part of precautionary measures to avoid the spread of the coronavirus disease (Covid-19).
The illegal immigrants were from Togo, Cote d'Ivoire, Burkina Faso, Niger, Nigeria, Benin, and Guinea.
They enter Ghana through unapproved routes.
According to the GIS, some residents at the border towns and villages used motorbikes to carry them into Ghana and collect monies from them.
A similar exercise carried out on May 14, 2020, led to the arrest of some 17 illegal immigrants, comprising eight Togolese and nine Burkinabes at the Kato Inland Immigration Check Point near Berekum.
The Kato Check Point was created to provide officials of the GIS an opportunity to profile passengers to identify foreign immigrants who might have used unapproved routes to enter Ghana.
All 1107 immigrants were repatriated to their various countries.