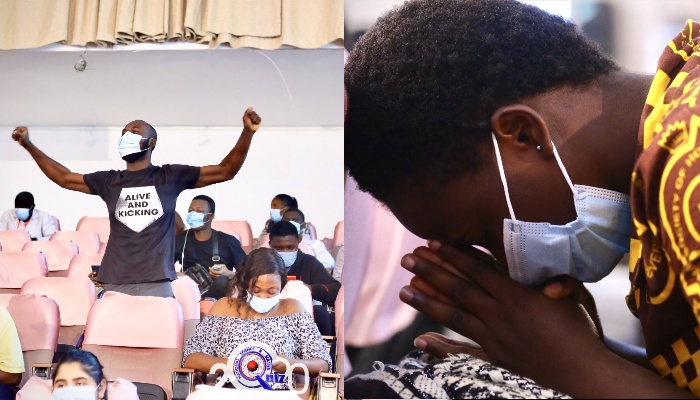 OWASS survives feminine ambush at NSMQ 2020
OWASS' position in the sitting arrangement encapsulated the nature of this quarter-final contest.
Pure ambush.
Sandwiched between Wesley Girls' SHS on the right and Holy Child School on the left, the Kumasi-based boys' school faced arguably the best of feminine power at the NSMQ 2020.
But OWASS survived – not by the skin of their teeth because nine-point gap is not too close and is hardly emphatic. But if you weigh the trolls ready to descend heavy, any victory is sweet.
Wesley Girls SHS was a 2019 semi-finalist. They were denied a berth at the grande finale by a school that called them Egyptians before kicking out the girls.
This time around they may have been relieved not to meet St. Peters SHS because the boy who called them Egyptians was still around in the 2020 edition. Let him go look for a different Egyptian.
In OWASS, Wesley Girls faced a different kind of opposition. And after kicking Prempeh College out in the quarter-finals of last year, the girls would have felt confident in handling 'Kumerica' opposition.
Holy Child School by being at this quarterfinal contest had already exceeded their 2019 performance where they were kicked out at the one-eighth stage.
In that contest, holy cow, Anlo SHS beat Holy Child. But they were both beaten by Kumasi Academy, comprehensively.
And so in this quarter-final clash, Wesley Girls would have eyed Holy Child as a lesser threat than the two-time champion, OWASS.
And OWASS would have viewed both as two bickering sisters who could bite off the hand from another NSMQ trophy.
And they indeed bickered, the two girls schools scoring 15 points apiece in Round One.
OWASS suppressed any attempt by the girls schools to stop fighting each other as the scores showed the boy school kept a difference of between 7 to 10 points in all four rounds.
OWASS may have felt the girls not too much of a challenge and so upped the ante a bit to challenge the woman – the quiz mistress.
Noble from OWASS 'overruled the quiz mistress' after she judged his answer wrong. But that's the same answer we gave' he retorted pointing out the correct answer. His reply forced the competition to pause and re-check the answer.
And in another remarkable display of confidence, Noble would take over from the quiz mistress's questioning. He would question himself and answer the question.
OWASS was at the home stretch by now. In the fifth round, all they needed to do was – stretch.
And that's where the muscle pull happened.
At the Round of True of False, OWASS suffered an identity crisis. They appeared unsure if their mettle in this contest was true or their hope was false.
The temperature of what was a Jacuzzi of a competition for OWASS had turned up. In the Goil Riddle bonanza, they were boiling.
It was a round that showed all the signs of coronavirus – a breathless, sweating round where OWASS stood still. Holy Child's Samantha had a nose for clues, picking good points at small hints.
It was a windy time for OWASS to roof their victory.
But if roofing their victory was shaking, OWASS had already installed a firm foundation in the previous rounds.
Final score, OWASS – 49 pts
Holy Child SHS – 40 pts
Wesley Girls SHS -37 pts
OWASS' reputation as a specialist at winning quarter-finals is intact.