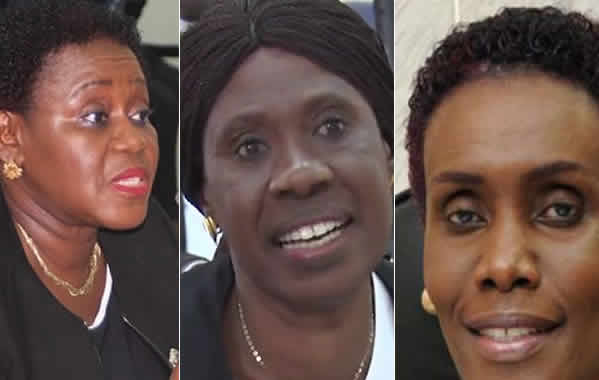 Parliament approves Supreme Court nominees
Parliament has voted to approve the nomination of the three recent nominees to the Supreme Court bench.
Justices Avril Lovelace-Johnson, Mariama Owusu and Gertrude Tokornoo were unanimously endorsed by the legislators less than three days after Parliament's appointment committee vetted them.
The Committee recommended the approval of the three by consensus.
"After a careful examination of their record at the various courts, the Committee was satisfied the three persons were indeed competent and sufficiently trained and knowledgeable in the law to be elevated to the high office of Supreme Court," Chairman of the committee Mr Joe Osei-Wusu told the House.
The Member of Parliament for Wa West (NDC), Mr Joseph Yieleh Chireh, seconded the motion.
The three judges are replacing three retired judges of the country's highest court— Justices Vida Akoto-Bamfo, Justice Sophia Adinyira and Chief Justice Sophia Akuffo.
While her peers are already on retirement, Justice Akuffo will exit on December 20, almost two and half decades after she was appointed in 1995.
After the exit of Justice Akuffo, the number of judges on the Supreme Court will be 15.
Speaking to the capping of judges on the Supreme Court, Justice Torkonoo said it will be disastrous to cap the figure on the apex court.
She said the Constitution had given the Supreme Court a broad scope and there was the need to put as many judges as possible there to do the work.
When she took her turn before the Appointments Committee of Parliament on Tuesday, Justice Torkornoo observed that the Supreme Court was the highest court of the land and that it was the only court that could interpret the Constitution, with the unique jurisdiction of high-profile cases, such as treason.