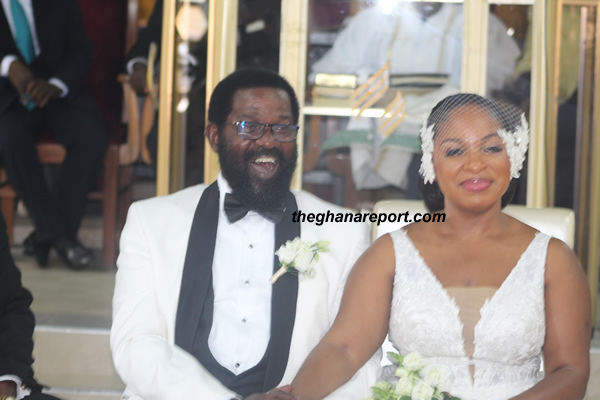 Photos: Oko Vanderpuije votes 'Yes I do' at his own 'referendum'
Alfred Oko Vanderpuye's untamed bushy mustache hid his excitement and his new bride's beauty overshadowed him completely – well almost.
"She is so beautiful," former Fisheries Minister, Sherry Ayittey,  fished out for compliments, as Mrs Cynthia Ayiku walked down the aisle to drop her surname.
Her vows sounded energised, more of a bold declaration than a prepared recital. And when she said she vowed to be submissive, her tone sounded unconditional.
It is a second marriage for both. And the new couple begin another journey as a family of seven. Ablekuma South MP, Oko Vanderpuye contributing two while Cynthia brings in three.
And so inside the Labone SDA church, a building that retained the old Christian virtue of simplicity, Accra's former Major said his vows to Cynthia.
And they both appeared as excited as eager substitutes glad to have another crack at the game called marriage.
The ceremony attracted a horde of MPs and politicians who blended in solemnly and shared their humaness that sometimes got lost in partisan bickering.
The SDA church is a denomination whose singers characteristically prove that musical instruments are over-rated. And here too they did so, singing Steve Crown's 'You are Great' and Cwesi Oteng's 'God dey bless me'.
They would punch air into their cheeks and puff it all out into the microphones and voila! – A sweet melody poured fourth.
The officiating minister, Pastor (Dr.) Divine Ayivor, urged the couple to love each other and kiss teacher twice a day. First in the morning with mouth unbrushed and late in the night.
He chipped in an advice to Cynthia to understand that Oko Vanderpuye is a politician, a comment that drew a mild gasp from the audience who confirmed the trite knowledge with some kind of knowing fear.
"He is not yours alone", Pastor (Dr.) Divine Ayivor in his yellow suit, urged Cynthia to mellow. It will be difficult to always get her husband's attention and so perhaps she also book an appointment to spend some quality time.
Preferably, Thursdays from 6pm, the pastor said in jest.
In two hours, the wedding ceremony was over, theghanareport.com observed. Although the December 17 referendum has been called off, Oko Vanderpuye found a way on December 8 to vote "yes, I do" to his new wife.
And with the 2020 elections beckoning, Oko Vanderpuye has fortified the emotional department of his life, by getting a wife.