President Akufo-Addo today marked the 25th anniversary of 'Kumepreko' demonstration together with other compatriots.
The demonstration took place in opposition to the Value Added Tax (VAT)  system introduced under the Jerry John Rawlings administration in 1995.
Initially meant to be a peaceful demonstration, to push the three-year-old democratic administration after 11 years of military rule,  to withdraw the tax, but it snowballed into tragedy when identified people believed to be elements from the military opened fire on some demonstrators.
Scores of people sustained injuries, while others died from the attack, but all the leaders escaped unhurt.
The tax was temporarily withdrawn because of the agitations and reintroduced a year later with certain adjustments.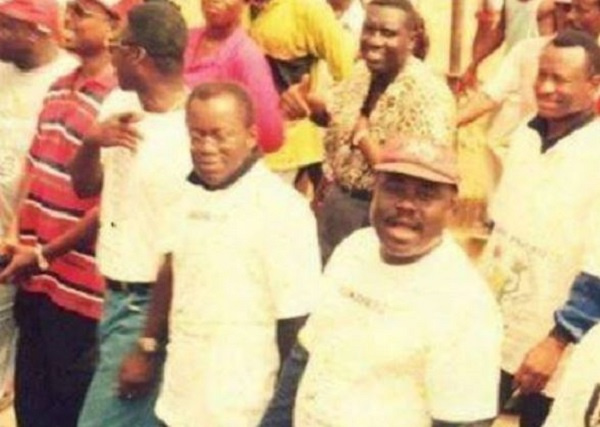 It is said to have been one of the biggest protests ever organised in the country, with an estimated 100,000 people participating.
President Akufo-Addo was one of the conveners of the demonstration.
Other leaders of the demonstration were Dr. Charles Wreko Brobbey, Kwasi Pratt Jnr, Dr. Nayarko Tamakloe, Abdul Malik Kwaku Baako, Akoto Ampaw, Victor Newman, Kwaku Opoku, Napoleon Abdulai and Agyiri Blankson.
The protest, however, turned chaotic with some of the demonstrators sustaining various degrees of injuries.
Exactly 25 years today, President Akufo-Addo met with some of his compatriots who took part in the demo.
Kitted in their face masks, Kwaku Baako and the others exchanged pleasantries with the President to mark the day.