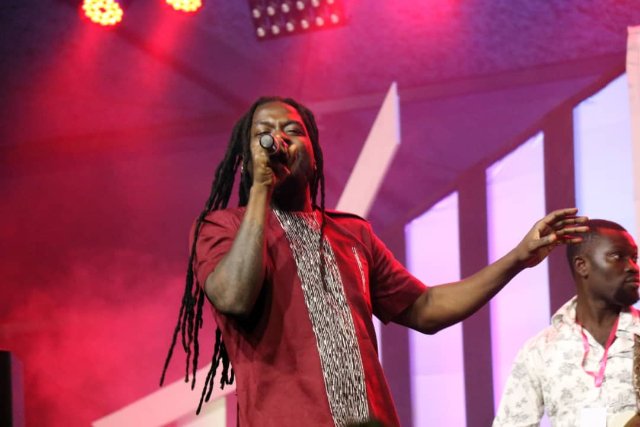 Photos: Samini, others climax Ghana World Music Festival
Dancehall artiste Samini is definitely not going to relinquish his title as the best live performer in Ghana anytime soon.
Consistently, the musician has never failed to thrill patrons whenever he is called on to the stage to do what he does best – perform.
Between late Sunday night and the wee hours of Monday was no different. He was the last act for the Ghana Music World Festival and boy, did he over-deliver.
He was like a saviour sent to redeem a music festival which recorded low patronage during its two-day celebration – August 3 to August 4.
Unlike the Saturday's show which witnessed performances from Deborah Cox, Irvin Mayfield, Ernie Smith, Third World and music maestro, Kojo Antwi, the final day was an all-local affair.
The final day witnessed performances from Lamisi, Gasmilla, Jupitar and Samini.
Like wine which gets better with age, Samini should true character and quality when he mounted the stage.
As soon as he was announced by host Merqury Quaye to take the stage, the crowd charged forward. They knew Samini too well; there will not be any need for their seats.
When he got down to business, his hit song 'My Own' got patrons dancing already.
Then the floodgates were open. He performed back to back hit songs from his impressive catalogue of songs. After performing 'Rainbow', he invited a female fan to give a go at the song…she killed it.
'Obaa', 'Tempo', 'Sweet Mistake', 'Baby', 'Gyae Shi', 'Linda', 'Iskoki', 'African Lady' and the songs kept flowing charging the atmosphere further.
But for Merqury Quaye prompting him that his time was up, Samini would have continued performing till sunrise.
Before Samini hit the stage, the final day of the festival, there were equally impressive performances from other local acts.
Talented singer Lamisi opened the concert. Backed by the Patch Bay Band, she performed songs like 'Karika Tanka', 'Brighter Side' among others.
Gasmilla followed. With Andy Dosty behind the turntables, the hiplife act performed songs like '3 Points', 'International Fisherman', 'Ak3somorshi' and 'Telemo' which saw patrons carrying chairs, bags and other items.
Dancehall act Jupitar also thrilled patrons with an energetic performance, He dished out songs like 'Money', 'Enemies', 'Eternity', renditions of 'Mane Me', and 'Cinderella'.