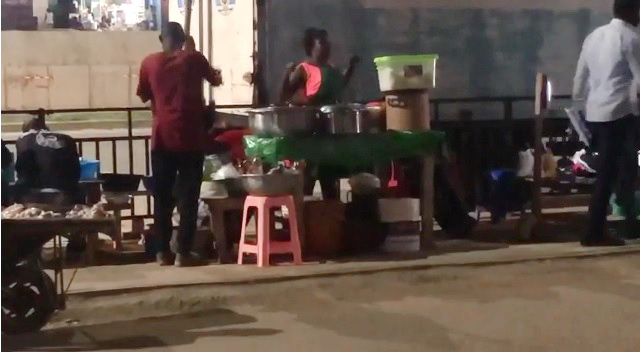 Pokuase interchange 'chop bar' operators granted bail
The 60-year-old man and his daughter who were arrested for allegedly operating an eatery, locally known as 'chop bar', on a pavement of the newly constructed Pokuase Interchange have been granted bail by the Accra Regional Police Command.
Kwame Addo, the operator of the chop bar, and Comfort Dartey, 32, his daughter, were picked up on Wednesday, August 25, 2021.
They were arrested after a video of a man pounding fufu, a popular local dish of usually cassava and plantain served with soup, went viral.
In the video, a man and a woman are seen pounding the fufu by the recently outdoored interchange, with many social media users condemning them for indiscipline.
Speaking on Accra-based radio station, Citi FM Wednesday evening, the public relations office of the Accra Region Police Command, Deputy Superintendent of Police (DSP), MS Juliana Obeng said the two are expected at the station today, Thursday, August 26, 2021, for further investigation.
"It's a father and a daughter we arrested in connection with a chop bar being operated by these two persons. These two persons have been granted bill but they have been cautioned for causing a public nuisance. We are hoping to see them tomorrow (Thursday, August 26, 2021) and then we will continue with an investigation", she stated
The four-tier Interchange said to be the first of its kind in West Africa and second in Africa, was opened to traffic by President Nana Addo Dankwa Akufo-Addo on Friday, July 9, this year.
The project was financed with a loan from the African Development Bank.