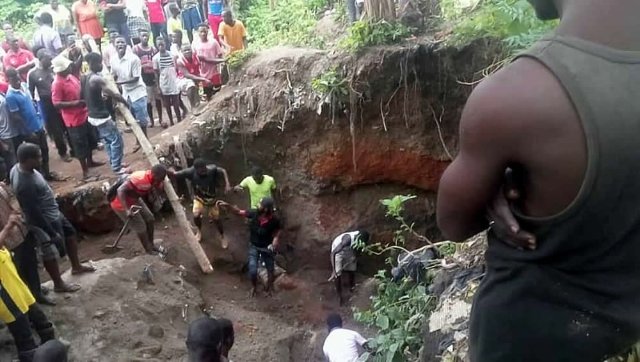 Police open investigation into fatal Akrokerri mine pit collapse
Police in Obuasi have launched investigations into a mine pit collapse at Akrokerri Bronikrom, in the Ashanti Region, which has claimed the life of a 35-year-old man.
It took personnel from the National Disaster Management Organisation (NADMO) and the police several hours to retrieve the body which was trapped under the rubble, Thursday.
It took more than six hours for rescue efforts to successfully retrieve the body.
Obuasi District Police commander, DSP Martin Asenso, said the area has been declared a crime scene following the retrieval of the body.
"Five persons have been retrieved and are still at the Adanse North District Assembly Hospital…looking at the circumstances the engineers have advised that the pit or where the body was retrieved to be covered," he said.
Earlier, the Ashanti Region police PRO, ASP Godwin Ahianyo, explained that the rescue team used an excavator to clear the grounds and save those trapped in the collapsed pit.
The mining pit caved in early Thursday while some miners were underground.
Police have, however, dispelled rumours there were many trapped under the rubble.
Meanwhile, the body of the 35-year-old has been sent to the hospital for autopsy.
The site of the accident is near a public toilet facility in the centre of the Akrokerri town.
Two years ago, a similar incident in the same region claimed two lives.
At least two people were been confirmed dead, with 11 others trapped after a mining pit collapsed at Patriensa in the Asante-Akyem Central District of the Ashanti Region in 2017.
The Patriensa tragedy came two weeks after another pit caved in on some illegal miners in Prestea-Nsuta in the Western Region.
The two disasters were recorded during a renewed fight by the government to clamp down on illegal mining.