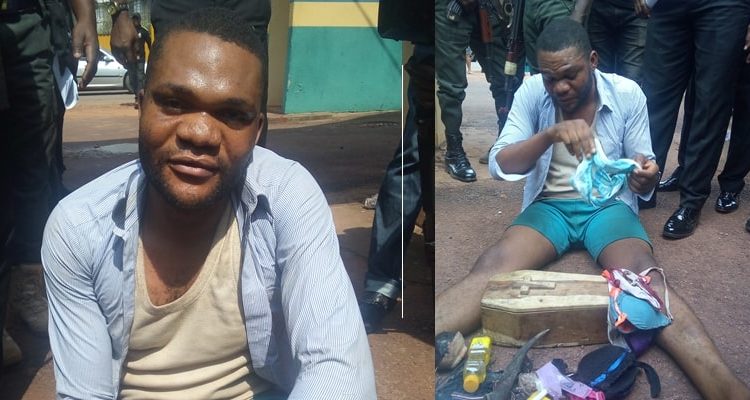 Police parade pastor for alleged rape of follower
A Nigerian pastor who allegedly could not control his libido was today, November 19, 2019, paraded in the in Nsukka Local government Area of the Enugu State of Nigeria for the alleged rape of a member of his church.
The State Police Command took Pastor Sunday Egbo, the founder of Christ Mercy Ministry, Ajuona Obukpa,on a walk that was not for evangelism.
Ahmed Abdur-Rahman, Enugu State Police Police Commissioner, alleged that the pastor had on November 9, 2019, allegedly invited the victim to church under the pretence of having a crusade on that faithful day by 6pm.
It is the case of the police that the suspect asked the victim to come along with the picture of her sick brother for prayers.
"On arrival, the Pastor took her to his house and left with the pretence to go and bring other people who were supposed to come for the programme but returned about 11pm and dragged her to his room, brought out a magic Stone and threatened to kill her if she raised an alarm.
"He ordered her to remove her clothes, she refused and the Pastor slapped her and forcefully tore her clothes and raped her," the Police Commissioner said.
"The Pastor not satisfied, seized her pant, brazier and brought small a bottle and wanted to insert it into her private parts, and she struggled and ran naked to the door and shouted which attracted neighbours who came and invited the Police for her rescue and the Pastor was subsequently arrested," he added.
The suspect allegedly confessed to committing the crime to journalists when he was asked to narrate why he was arrested by the police.
"I actually raped her in my house," he was quoted as saying by Nigeria's Punch Newspaper