Policy rate could be slashed to 11% by 2021 – Economist
The Bank of Ghana (BoG) could cut Monetary Policy Rate (MPR) to 11% if inflation is driven down to projections of 9.8% in 2021, Economic Analyst at Databank Group, Courage Boti, has said.
Mr Boti foresees inflation in Ghana "ending 2020 around 10.4% but in 2021 I think our projection is 9.8% inflation".
If this occurs, the economist predicts a slash in MPR and "it could come down to 11 or 12%" if we can get to single-digit inflation with no pressure on inflation outlook".
If inflation is going up then it means there is excess money in the system than required for the purchase of goods and services. An increase in the MPR will result in an increase in interest rates making investment attractive for investors. Individuals will be more encouraged to save as well as invest their monies at higher interest rates and this would mop up excess liquidity in the system slowing down the inflation.
The central bank in a free market economy has no power to set interest rates. When the BoG cuts the policy rate, it is also trying to morally persuade commercial banks to reduce their lending rates to customers.
The policy rate determines the rate at which commercial banks determine interest rates on loans.
Commercial banks will normally go to the central bank to borrow at a higher interest rate as a last resort. If the banks decline to go for loans from the apex bank there would be fewer loans for individuals and businesses.
COVID-19 lockdown and panic buying spiked inflation which reduced to 10.4% in September. The luxury has given the government the opportunity to keep monetary policy down.
After slashing in March, the BoG has held the MPR for four occasions at 14.50% to cushion businesses.
The apex bank is projecting single-digit inflation by the second quarter in 2021 and "if there would be any cuts at all, probably late in the third quarter" of 2021, Mr Boti told theghanareport.com in an interview.
He believes the BoG would adopt and wait-and-see attitude at the beginning of the year.
He does not also foresee any increment as the BoG prepares to announce it's the last MPR on Monday, November 23, after completing its Monetary Policy Committee (MPC) meetings.
After stabilising inflation, the government was considering reviewing the current target of 8.0 ± 2 but the unforeseen COVID-19 pandemic disrupted considerations as the government had to spend money extra monies in dealing with the health pandemic.
Mr Boti is of the view that since it was 6-10, maybe it will now be 4-8".
Elections and MPR
With Ghana heading to the polls, there are fears of budget overruns. COVID-19 concerns have also led parliament to suspend the Fiscal Responsibility Act which permits the Finance Minister to limit expenditure to 5% of GDP. The World Bank is expecting the fiscal deficit (excluding the energy sector and financial sector costs) to widen to 11.4% of GDP in 2020.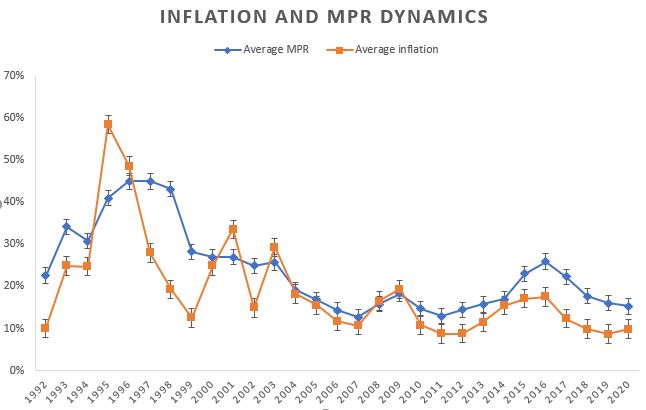 An analysis of historical data by theghanareport.com shows high inflation in elections years mandating a surge in MPR to keep it in check.
Out of six elections from 1996 to 2016, four have recorded an increase in MPRs during in election years. 1996, 2008, 2012 and 2016 witnessed a surge in MPR to control inflation.
"Usually, when we are approaching election we tend to overspend and that stokes inflation and because we are an inflation-targeting central bank, they would increase MPR anytime that is a risk to the inflation outlook," Mr Boti explained.
In the first four years, an incumbent government is confident that Ghanaians would give them a second term so the over expenditure is minimised but normally "after eight years, that agitation to stay in power drives them to spend more," he added.
The highest policy rate recorded in the Fourth Republic was 48.6% in 1996. This was aimed at correcting the high inflation pressures of 58.5% in 1995 and 48.6% in 1996.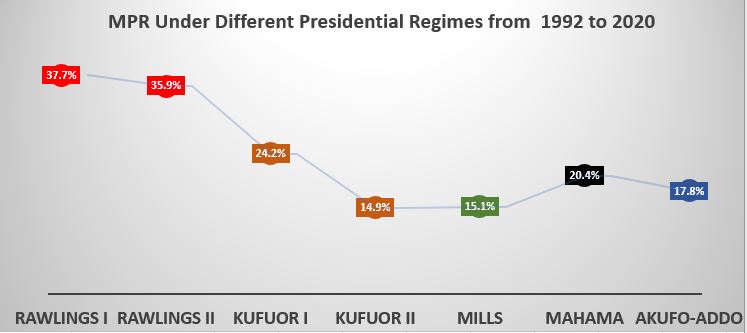 Even though the BoG Governors are normally appointed by political administrations, they have largely operated independently.
However, the governments have claimed credit when the BoG policies yield fruitful results.
Comparing presidential administrations, former President Jerry John Rawlings' era witnessed the highest policy rates and the lowest was under former President John Agyekum Kufuor.
Mr Boti attributes the lowest monetary policy achieved to the Highly Indebted Poor Countries (HIPC) programme opted by the Kufuor government in 2001 from the International Monetary Fund (IMF). The decision point to end the programme was in February 2002.
After offering monetary aid and cancelling a chunk of Ghana's debt, the Bretton Wood institution attached conditionalities to ensure efficient management of the country's economy.
The macroeconomic objectives of the programme dictated that government should have achieved "by 2004 a single-digit inflation rate (5 per cent), an acceleration of the real rate of economic growth (to at least 5 per cent), and the restoration of a prudent level of official foreign reserves (equivalent to about three months of imports)".
The result was a drastic cut in inflation from 33.6% in 2001 to 10.7% by 2007 before exiting office.
"The government was at that time very disciplined and that achieved the lower inflation we had," Mr Boti intimated.
However, the latter part of Kufuor's second term saw a bit of indiscipline resulting in a spike in inflation.