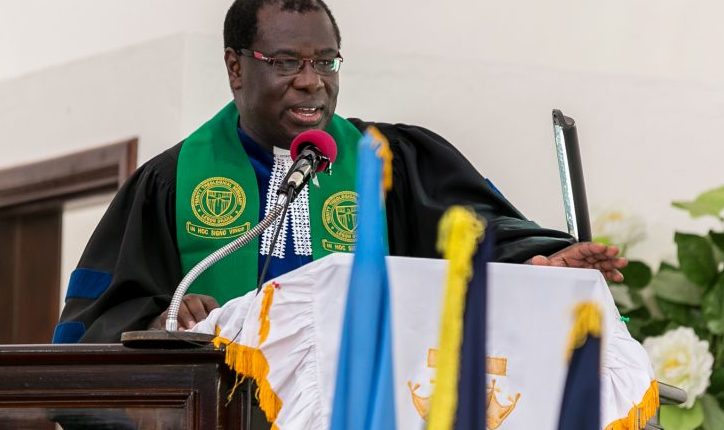 Politics breeding apathy – Presby Moderator
The Moderator of the General Assembly of the Presbyterian Church of Ghana, Rt Rev. Professor Joseph Obiri Yeboah Mante, has called for change in the country's politics as the current political environment is breeding apathy among the populace.
"People seem to be fed up. Everything is becoming NDC and NPP and I think that things must change politically and when people see that things are changing, they will no more be apathetic to any national exercise," he stated.
Speaking to journalists at Berekum last Sunday after inducting Reverend Daniel Bosea Gyinantwi, the new West Brong Presbytery Chairperson of the church, Rt Rev.
Prof. Mante said Ghanaians were worried about the politicisation of everything in the country along NDC and NPP lines.
"People are worried and that is why the apathy is showing and I think that both the NPP and the NDC should beef up proper politicking for Ghanaians to believe in their political systems so that when they come and say that they will do A B and C, A B and C are done," he stated.
Rt Rev. Prof. Mante observed that there were certain national issues that did not have to be politicised.
He stated that Ghanaians were eager to see the rapid development of the country and it was only when the nation began to develop that they would believe in the political system and be part of its governance.
Comprehensive Sexuality Education
Touching on the comprehensive sexuality education, he called on Ghanaians to believe in the President and the Minister of Education that the policy would not be implemented in Ghanaian schools.
"But there is only one thing that I am asking of President Nana Addo Dankwa Akufo-Addo to do and it is that anywhere in any document that CSE appears, it should be taken out", he said, adding that would give Ghanaians more confidence because CSE was a brand on its own and Ghanaians wanted that brand out.
"We don't want any situation when Nana Akufo-Addo would be gone or the current Minister of Education would be gone and CSE would be there and then our children would be making references to the CSE document. That is why we want it out," he said.
Rt Rev. Prof. Mante said even though he believed in the President and his minister "I don't want to see that word in any document. When they do that for us, I will be the first person to stand up and clap for President Akufo-Addo."
He explained that the position of the Presbyterian Church of Ghana was expressed in the Christian Council's statement that Ghanaians did not want their children to be introduced to the CSE neither today nor tomorrow.