Pregnant wife "shot by husband" in her sleep tells court why she heard no sound
A woman allegedly shot by her husband while asleep has told a court she suspects she was drugged.
This is why Benita Dankwa says she didn't wake up to the sound of gunshot and a bullet lodged within her body which has consigned her to a wheelchair.
Was it possible she was a deep sleeper. No, Benita Dankwa told the Accra High Court presided over by Justice Mary M.E. Nsenkyire.
She said this on her second day of cross-examination in a case in which her husband, Effort Dankwa, has been charged with attempted murder over an incident that happened in 2016.
In court her witness statement came up again. In that statement, she mentioned that the drug, chloroform, prevented her from waking up to the sound of the deadly shot.
But counsel for the accused, James Anum, taking his turn during the cross-examination, insisted that Mrs Dankwa was not truthful in her witness statement.
"He shot me whilst I was asleep. It was just the two of us in the room with the windows and doors locked…it was not tampered with.
"And when I woke him up on the day of the incident, for someone who has seen a shot like that, the first thing was for him to shout for help but it wasn't like that in our case," she narrated.
The accused was present during her cross-examination and sat calmly, almost unmoved at the accusations coming from his wife.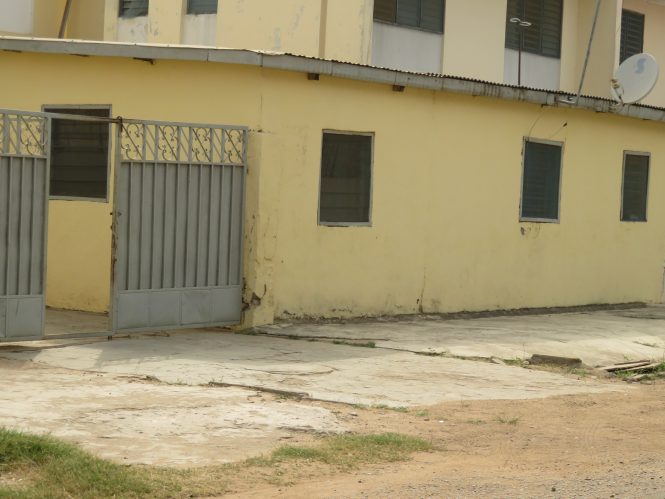 Photo: Crime scene where Effort and Benita lived
Mr Anum, combing through a pile of files,  made reference to paragraph 28 of Mrs Dankwa's witness statement, which indicated that the accused used choloform thus caused her deep sleep.
"It is true, my Lady," she reiterated.
"I still stand by my word," she said, "when I woke up to visit the washroom and came back he had left the room to the washroom. But he kept long in there. I wanted to go and check on him but felt lazy to do so. I didn't remember anything till the next day."
In a sharp response, Mr Anum maintained that no chloroform was found in the room and the accused never stayed in the washroom for a long time.

Photo: Happier times
Background of the story
Effort Dankwa, 36, is alleged to have shot and paralysed his wife in 2016. He was charged with attempted murder.
He was arrested in 2016 after police investigations identified him as the prime suspect in an attack on his wife, Benita Dankwa, who was then 29.
Benita was seven months pregnant at the time the incident occurred. She was shot in the chest, in what she believed was an attempt by her husband to kill her.
She did not die but the attack left her paralysed. She gave birth prematurely to save herself and her baby.
Investigations by the police suggested there was no break into her house the night of the attack.
The only person she spent the night with was her husband.
Mrs. Benita Dankwa survived a ferocious attack while she was eight months pregnant. Her baby survived.