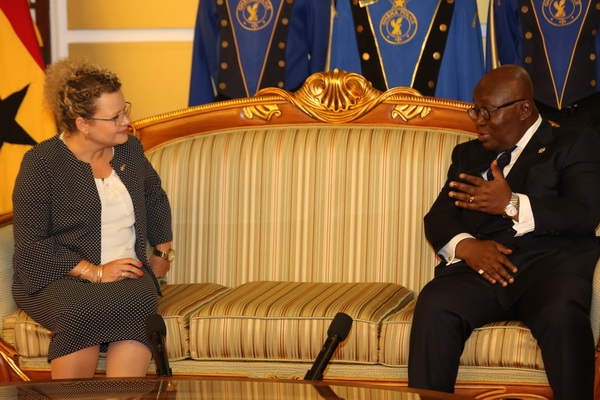 Prez Akufo-Addo receives credentials of seven envoys
Seven envoys on Tuesday presented their letters of credence to President Nana Addo Dankwa Akufo-Addo at separate ceremonies at the Jubilee House.
The envoys are Mr Aboubacar Sadikh Barry, Senegal; Ms Shani Cooper, State of Israel; Mrs Anne-Sophia Ave, France, and Mr Mohammed Ahmed Mohammed Ibrahim Al-Humaid, Qatar.
The rest are Mrs Frances Virginia Anderson, Sierra Leone; Mr Maher Kheir, Lebanon, and the Head of the European Union Delegation, Ms Diana Accencia.
At the turn of each envoy, the national anthems of the respective countries and that of Ghana were played in front of a mounted police guard, and receiving them, President Akufo-Addo traced the historical relationships between Ghana and each country and the European Union and gave an assurance that the ties would be enhanced for the mutual benefit of one another, especially in terms of economic relations.
Senegal
Mr Barry, who was the first to present his letters of credence, said his mission was to contribute to building a stronger relationship based on common interest, between Senegal and Ghana.
He commended President Akufo-Addo for stepping aside to allow his Senegalese counterpart to vie for a membership position on the United Nations Human Rights Council and described it as a great decision.
President Akufo-Addo, in response, said even before independence and after, Ghana and Senegal had remained vanguards in championing development in the sub-region and Africa.
Israel
At his turn, Mr Cooper said he had been following with keen interest the President's desire to strengthen the ties between Israel and Ghana.
He said Ghana was the first African country to establish diplomatic relations with Israel and expressed happiness that there were a lot of Israeli companies in Ghana.
President Akufo-Addo, in turn, expressed the hope that Ghana could derive maximum benefit from Israeli technology and agriculture.
France
When she took her turn, Mrs Ave commended Ghana for its efforts to lead Africa to attain greater and stronger economic independence.
The President, for his part, talked about cooperation between Ghana and France and said it was exemplified in areas such as education, water, sanitation and the economy.
Qatar
Mr Al-Humaid told the President that he was in the country to strengthen the bilateral relations between the two countries.
President Akufo-Addo in response, said he was looking forward to visiting Qatar, as part of efforts to equally promote good relations and deeper economic ties between the two countries
Sierra Leone
For her part, Mrs Anderson expressed the gratitude of the government and people of her country to Ghana for what she called the myriad of support in various forms Ghana offered to her country when it was in need, adding that Ghana was a role model for her country.
President Akufo-Addo assured her of Ghana's continuous support for her country.
Lebanon
Presenting his credentials, Mr Kheir said he cherished the relationship between the two countries, especially the hospitality that was accorded Lebanese nationals in Ghana, as well as the contribution of Ghanaian men in boots towards ensuring peace and security in Lebanon over the years.
In response, President Akufo-Addo noted that over the years, generations of Lebanese had settled in Ghana and contributed to the socio-economic development of the country and mentioned that Ghana had had two Commanders of UNIFIL General Seth Obeng and General Erskine in Lebanon.
European Union
When she took her turn, Ms Accencia said the EU valued its partnership with Ghana, which was based on a common agenda of promoting democracy, peace and security, human rights and the fight against climate change.
She said Ghana had the political stability, natural resources and dynamic youth with entrepreneurial abilities, coupled with a government that was ready for business, and said with these, the EU would support Ghana to attract the needed investments.
President Akufo-Addo, in reply, welcomed the broad support from the EU, which he described as Ghana's important development partner.
He stressed that Ghana would be more self-reliant in the exploitation of its natural resources and human capital and said that encapsulated the development slogan of 'Ghana Beyond Aid'.
source: Graphic Online